Posted by Elaine Tu on May 2nd 2019
We're always inspired by the others to become a more sustainable company. Reducing our environmental footprint and is a massive goal of ours not only as a company, but as individuals as well. As part of our sustainable living series, we've got to gain some insight on what it means to be sustainable and some knowledge on how to live more sustainably at home and the office.
For this segment of Sustainable Living, we got to chat with Elana Jadallah, a photographer, marketing consultant and founder of elanaloo.com based in beautiful Hawai'i. Through her photography, writing and online channels, her mission is to captivate others with the incredible world around them, spread the knowledge she has surrounding sustainable living and inspire conscious action. Through her work with small businesses, her mission is to tap into the unique ripple effect that businesses have on this earth and help them amplify positive impact through regenerative and impactful strategies.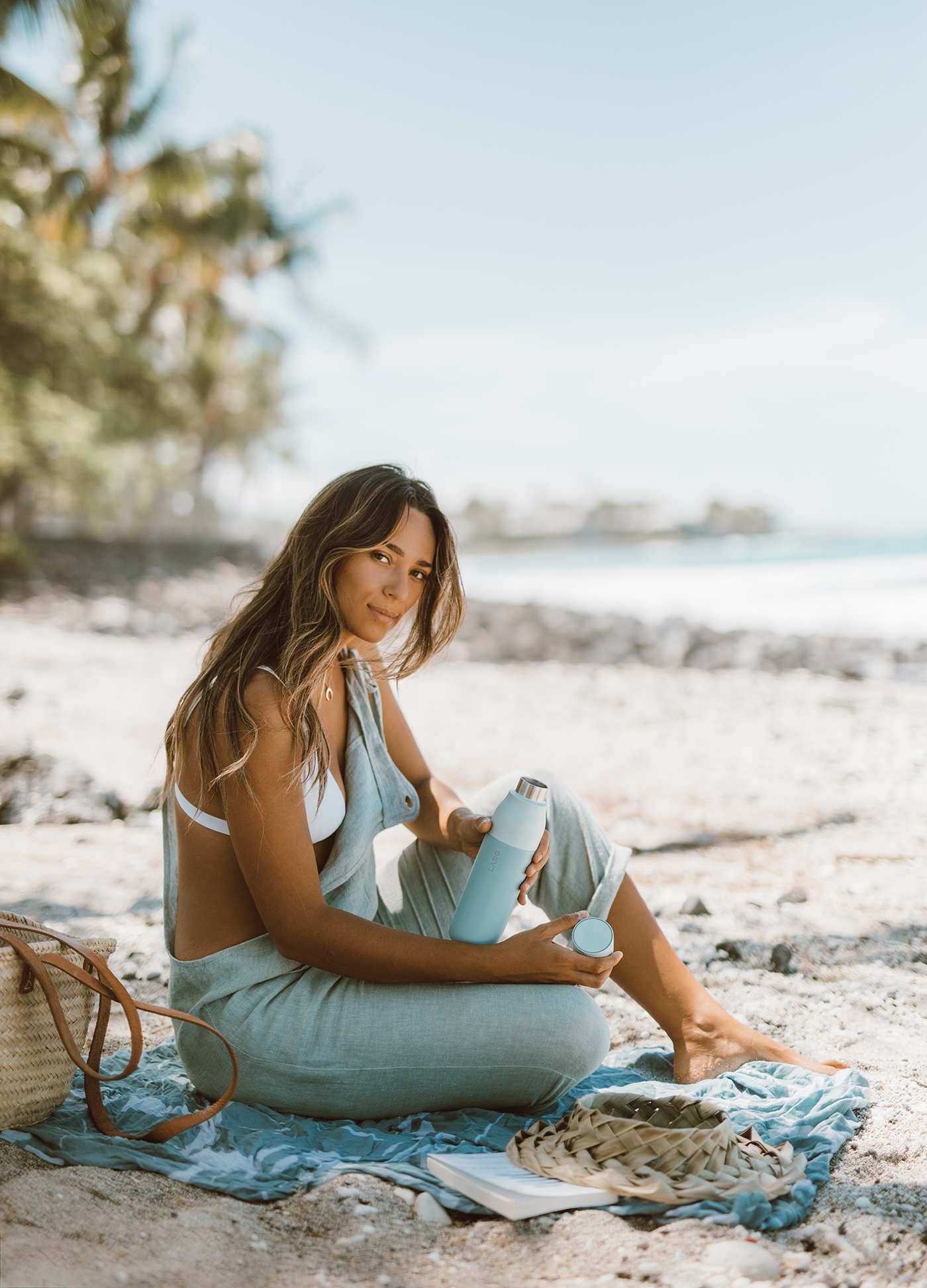 Courtesy of Elana Jadallah
Fun facts: Elana loves hiking, swimming and paddle boarding; reading, cooking, storytelling, anything that pushes her out of her comfort zone, even just a little. Since living in the islands, she's developed a love for traditional Hawaiian arts like haku lei making and she intends to learn how to weave lauhala next.
Elaine T.: What does sustainability mean to you?
Elana J.: Mmm, if you would have asked me that a year ago, WOW, would the answer have been different! My understanding of sustainability is constantly evolving and growing. I used to be so focused in on simply plastic pollution and the need for more sustainable packaging (which is still a big focus!) but now I understand that individual, corporate and governmental sustainability has many, many more facets and ripple effects.
To me, sustainability means creating more long-lasting, conscious solutions for individuals, businesses, and society as a whole. Supporting others who are also seeking out these solutions and creating change. Allowing myself to be a student and a sponge. Learning as much as I can about the whole picture and working towards more regenerative and restorative ways of doing things that reverse the damage we as a society have caused and support our natural environment and ecosystems for the future.
ET: Did you always live a sustainable lifestyle? If not, how did you get your start?
EJ: No, absolutely not. I grew up not knowing anything about where my food came from, where my plastic waste would end up or what a 'sustainable lifestyle' even looked like. Like so many others who are passionate about the environment, my journey started with a captivating 'aha moment'!
It was fairly recent, just a few years ago, when I started cleaning our local beach while Aaron surfed. I began to notice there were more pieces of micro-plastic on the beach than there were seashells. It completely broke my heart. It was devastating. I wanted to know more about the plastic pieces and how they were landing on our beaches, so I started doing research and was shocked. I had been so unaware of the incredible crisis our oceans and our planet are in. I felt so stupid and blinded by the convenient lifestyle we all live as a society. How did I never think about these things? How could I be so unaware?
I'm a firm believer that once you learn something, you can't 'unlearn' it…So this started my journey of continued research and making changes in my lifestyle. I started by analyzing my behaviors and seeing what exactly my impact looked like. First I eliminated single-use bags at the grocery store (they're banned here in Hawai'i which is amazing), then I committed to only using reusable water bottles and cutlery no matter what. And now, this more-mindful, less-wasteful outlook has trickled into every room in our home and every aspect of our lives. I now look at life through this lens of awareness and intention. It's been an unraveling; a wonderful, challenging and empowering unraveling of past patterns and behaviors.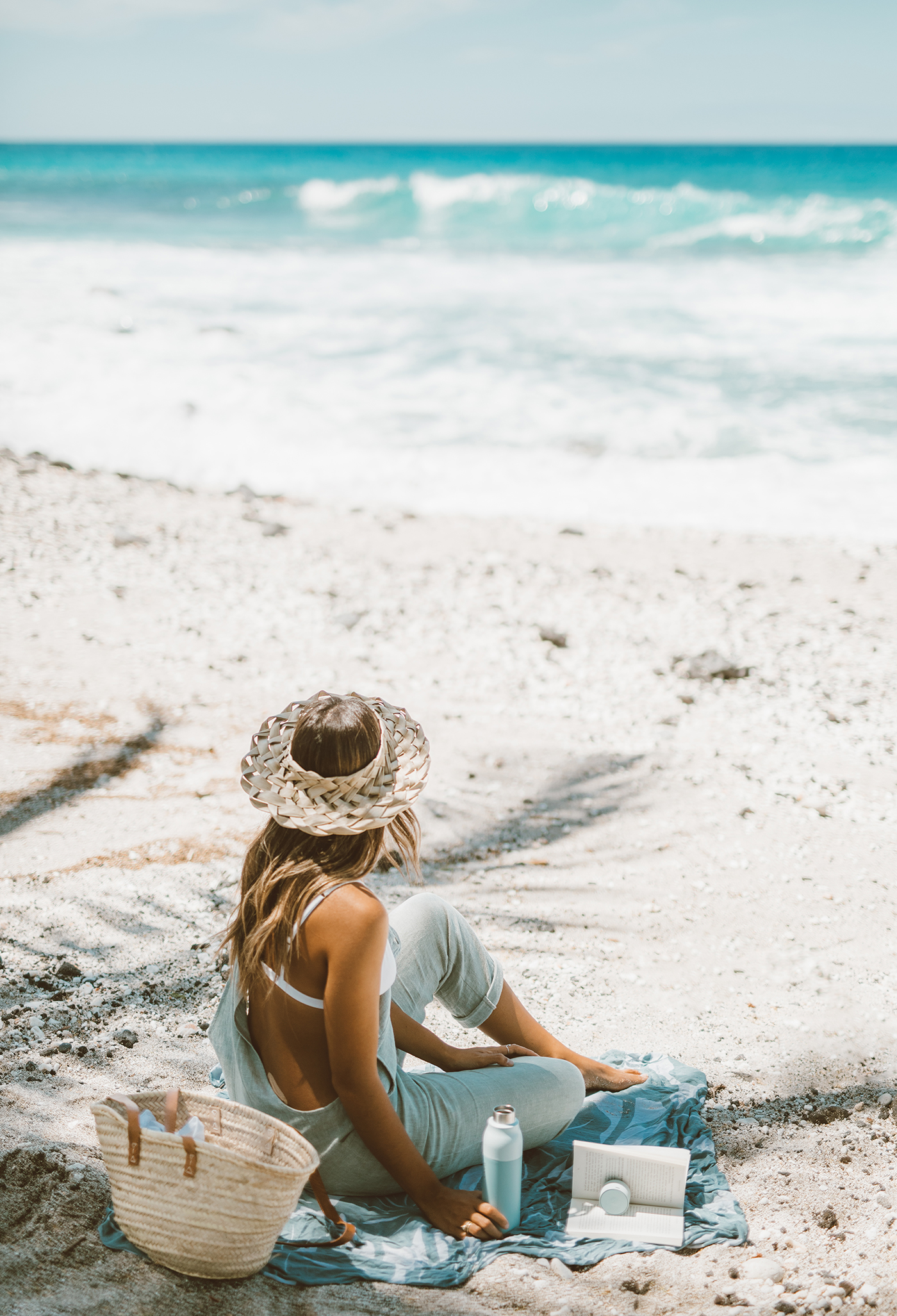 Courtesy of Elana Jadallah
ET: What's it like living in Hawaii? What are your favorite things about it?
EJ: I love having access to the inviting ocean waters all-year-round and the active lifestyle that yields for us, I also love the variety of climates (we have 11 of the 13 micro-climates present on earth here on the Big Island) and the immense beauty that surrounds me. Living in Hawai'i is absolutely special, although very different than what many picture it to be. Yes, it is beautiful and enchanting but I argue that it is so in a much deeper, more profound way than you encounter at first glance!
The mana (energy) here is strong and the Hawaiian culture is rich and unique. I feel wildly honored to call this place home but it's certainly not for everyone and there are many things that differ living here from vacationing here. The things we are blind to on vacation might be that 90% of our food is imported (although sadly the Big Island could be 100% self-sufficient with the number of farms and land here) or the tragic, mostly unknown history of these islands and their people or that it's a very sensitive eco-system which is being harmed by the constant influx of people. For example, how mass-amounts of sunscreen being dissolved in the water daily has killed the reefs here, how our shorelines are covered in micro-plastics but plastics are still widely distributed, etc. There are so many things that people overlook that need attention, love and energy in these islands. It's become such a huge part of my everyday life to shed light on these issues and be part of the solution.
ET: Our team here at LARQ has been trying to go plastic-free for the past few weeks, but it's been tough. What kind of challenges do you face in cutting out plastic? What solutions or alternatives have you found?
EJ: AMAZING! Good on you guys. This makes me wildly happy to hear! Something I read the other day that I loved was this: 'The world doesn't need a few people doing zero-waste perfectly. The world needs millions of people doing it imperfectly.' There is so much power in simply starting the journey to finding answers, to seeking solutions, to QUESTIONING our convenience. Something I find helpful is to count how many times you encounter plastic in one day (specifically single-use) and take a tally. Most will be shocked by the number. You can't just throw plastic 'away' – they go somewhere (often times shorelines far, far away) and don't break down for over 400 years. Once you take a closer look, the hope is that you'll feel compelled to find longer-lasting, less harmful alternatives for the things you encountered the most in your day.
My biggest challenge is sadly food packaging. I walk into a Costco or a big box grocery and don't know whether I want to scream or cry. Similar to the idea that you can't 'unlearn something' it's hard to 'un-notice' something. Once you start eliminating convenient, unneeded plastic… you start realizing that it's everywhere. And one of the worst culprits is our food. The best solution I have found is to SHOP LOCAL (find a local co-op or CSA and shop at farmer's markets) and we bring our own jars/containers to shop in the bulk section at the grocery store. Whenever possible, buy things like kombucha or olives in glass jars that you can reuse. The last tip for food: make things at home! You'd be surprised how easy some things (like nut milks - I love my Almond Cow! - or hummus are to make at home). Next time you run out of something store bought, see if you can make it yourself.
Also, I found it hard to eliminate plastic in the bathroom! Shampoo + conditioner bottles, soaps, razors, toothbrushes and toothpaste, cleaning products, feminine products even TP! Whoa. There's a lot of waste. But through research, there are so many solutions when you seek them out. I've found an alternative that is zero or low waste for each of the things listed above. Shampoo, conditioner and soap bars, safety-razors, bamboo toothbrushes, menstrual cup, even sustainably made TP. It's all in existence and help eliminate massive amounts of waste. I'm happy to serve as a resource to you – always reach out and I can give you my recommendations!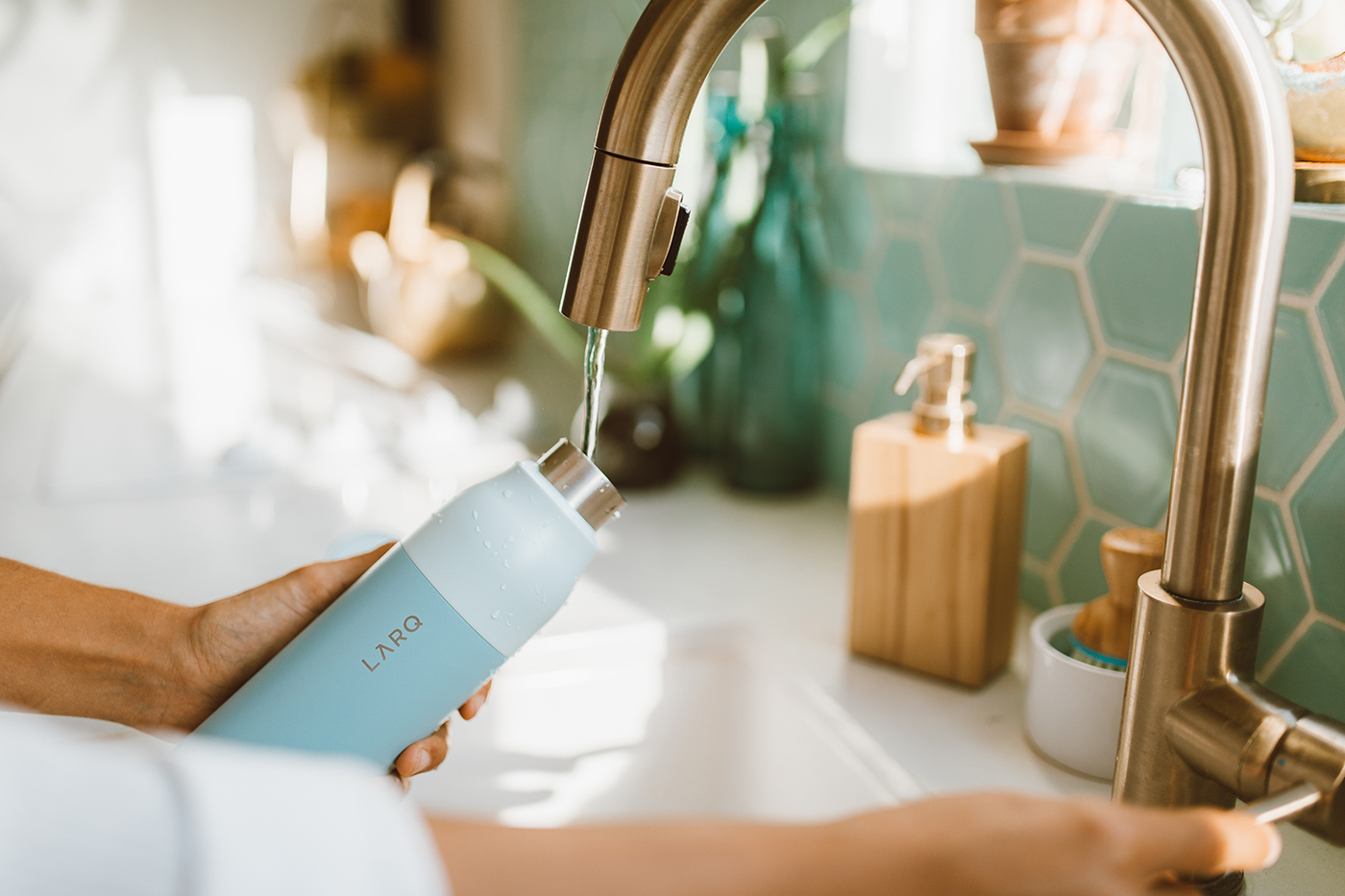 Courtesy of Elana Jadallah
ET: What is a guilty pleasure of yours that you wish was sustainable? What would you tell the company who produces it?
EJ: Oooh! This is a good one. There are a few things that come to my mind. First is traveling – specifically flying. Flying is probably the dirtiest act in our lives. One round-trip flight between New York and California generates about 20% of the greenhouse gases that our cars emit over an entire year. I'm dedicated to learning more about effective, restorative carbon-offsetting for travel specifically.
The second that comes to mind is coffee. This one's easy to solve by bringing a reusable to-go cup, choosing to have your coffee 'to-stay' or simply making it at home! Avoid K-cups at all costs and if you have to get a to-go coffee for some reason, ask for no lid and no stir straws.
The last thing is my essential oils. Yep, I'm that hippie. I love to diffuse essential oils in our home, I wear them as perfume and use them for countless uses in our home. Sadly though, there's a huge gap in the wellness industry when it comes to sustainability and regenerative business practices. I find that many wellness products (such as essential oils, protein powder, snack bars, etc) are still packaged with plastic elements, not using renewable energy for production, are sourcing from unsustainable farms, etc. so I have found myself buying less and buying more intentionally. The best thing we can do is communicate our concerns and needs to the companies who produce our 'guilty pleasures' and help them shift to better practices. They value customer feedback because their business relies on it.
Here's a little excerpt of the email that I send to any company that I love but would love to see improve:
As you may know, _____________ (plastic pollution or climate change or unethical work conditions, etc) is a huge problem and I would love to see your company shift towards practices that are more conscious and sustainable. Below is a checklist of conscious business practices that I consider a standard of excellence. Any brand I give my business to must check three or more boxes on this list:
Repurposed/Recycled Materials
Compostable or Post-Consumer-Recycled Packaging
Fair Trade
B-Corp Certified
Carbon Neutral Shipping
Natural or Organic Materials (preferably GOTS certified)
Made locally to base consumer
Independently Owned
Not mass produced
Give back to cause/organization/community
Made with intention (i.e. honors tradition, brings awareness, tells a story
If you want the full email template to send out, sign up here!
ET: How do you find sustainable options that fit your needs? Can you name a few things you are constantly using, reusing or purchasing?
EJ: Great question! When I started this journey, I definitely felt like I was 'the first pioneer doing this' and like I had to find all the answers myself. Thankfully, that was not the case at all! There are so many people out there who are innovative (like LARQ for example!), aware and educated that have found or created more regenerative and sustainable alternatives to what we use on a daily basis. A simple google search will typically give you the answers you need. Also, one of the best books I've purchased that was helpful in this way was a used copy of 'How To Give Up Plastic' – written by Will McCallum, the Head of Oceans at Greenpeace.
Things that we constantly use + reuse:
Reusable Water Bottle (the LARQ Bottle is our favorite)
Ceramic To-Go Coffee Mug
Glass Jars, Stasher Bags, Bees Wax Wraps + Canvas Bags for shopping and food storage
Menstrual Cup + Zero-Waste Razor (I recommend a classic safety razor or a Leaf Shave razor)
Get creative, use what you already have and invest in better options when you run out.
ET: In your opinion, what's the biggest change someone can make in their daily lives that will have the biggest impact on sustainability?
EJ: Your mindset. It's not just about saying 'No, thank you!' to straws or eliminating single-use plastics 'when you have the chance.' It's adopting the mindset that questions our own behaviors and allows for the vulnerability in saying 'this is not a behavior that supports the future I want to see.' By being willing to be self-critical and honest with yourself about that, it's so much easier to make changes that are long-lasting. If you're empowered with a strong mindset, you will seek out solutions and become a force of nature.
Courtesy of Elana Jadallah
ET: You got a chance to try our LARQ Bottle for a while, what are your thoughts on it? In what ways have you used the bottle that you can't with others?
EJ: The LARQ bottle added value to my life by giving me peace of mind that I can always have access to clean water. We are mindful at home about filtering our water with charcoal but can't always fill up from home. With the LARQ bottle, we can fill our bottles anywhere with confidence knowing that our water is clean. I can't wait to take ours on our travels! I know this solves a huge problem for travelers who are going to different countries with different water treatment practices. By bringing the LARQ bottle while traveling, I am wildly inspired by how many plastic water bottles will be avoided.
ET: What are some parting words you have for people wanting to live a more sustainable and mindful lifestyle?
EJ: Remember this: striving for perfection will only defeat you. Instead, strive for progress.
Stay curious, allow yourself to be a sponge, keep asking questions and seeking out answers. The way I see it is that there are four phases of awakening: the 'aha' moment, the overwhelm phase, the research and action phase and lastly, the opportunity to use your voice. Keep striving for progress in all aspects of your life one step at a time. I'm here for you as a resource both for yourself as an individual or if you're a business owner that is looking to make big shifts on your impact on this world.
It was an honor chatting with you today – I hope you found a takeaway that resonated with you! If you ever have any questions or want to connect, I'm here for you! Mahalo nui loa + a hui hou!
---
It's always inspiring to hear from people like Elana who are making changes in their lives to be more sustainable and spreading awareness on the global issue of waste--specifically plastic waste. It's hard to deny convenient goods, but what if you do? It only takes a few repetitions to build a habit and the habit to build here is to say no to wasteful goods. Buy quality over quantity, and always buy reusable over disposable.
Want to learn more from our Sustainable Living series? Check out our last post with Jules Hunt.