Posted by Elaine Tu on Aug 6th 2019
The biggest travel woe–whether for business or pleasure–is fitting workouts into your busy schedule. A gym is not always accessible (especially one with all the equipment you usually have back home), and eating nutritious meals can be even harder, making travel extremely taxing on your overall wellness. Ever get that sluggish feeling when you finally arrive back home? That's your body trying to adjust to your not-so-healthy travel habits.
We were lucky enough to speak with Kirsty Godso, Instagram celeb (@kirstygodso), founder of PYROGIRLS and Made of Whey Protein and lead trainer at NYC's Project by Equinox fitness lab. You may also know her as a Nike Master Trainer on the Nike Training Club app we've mentioned before as one of the best fitness apps out there. She specializes in high-intensity training and cardio workouts that will have you drenched by the end but feeling absolutely amazing.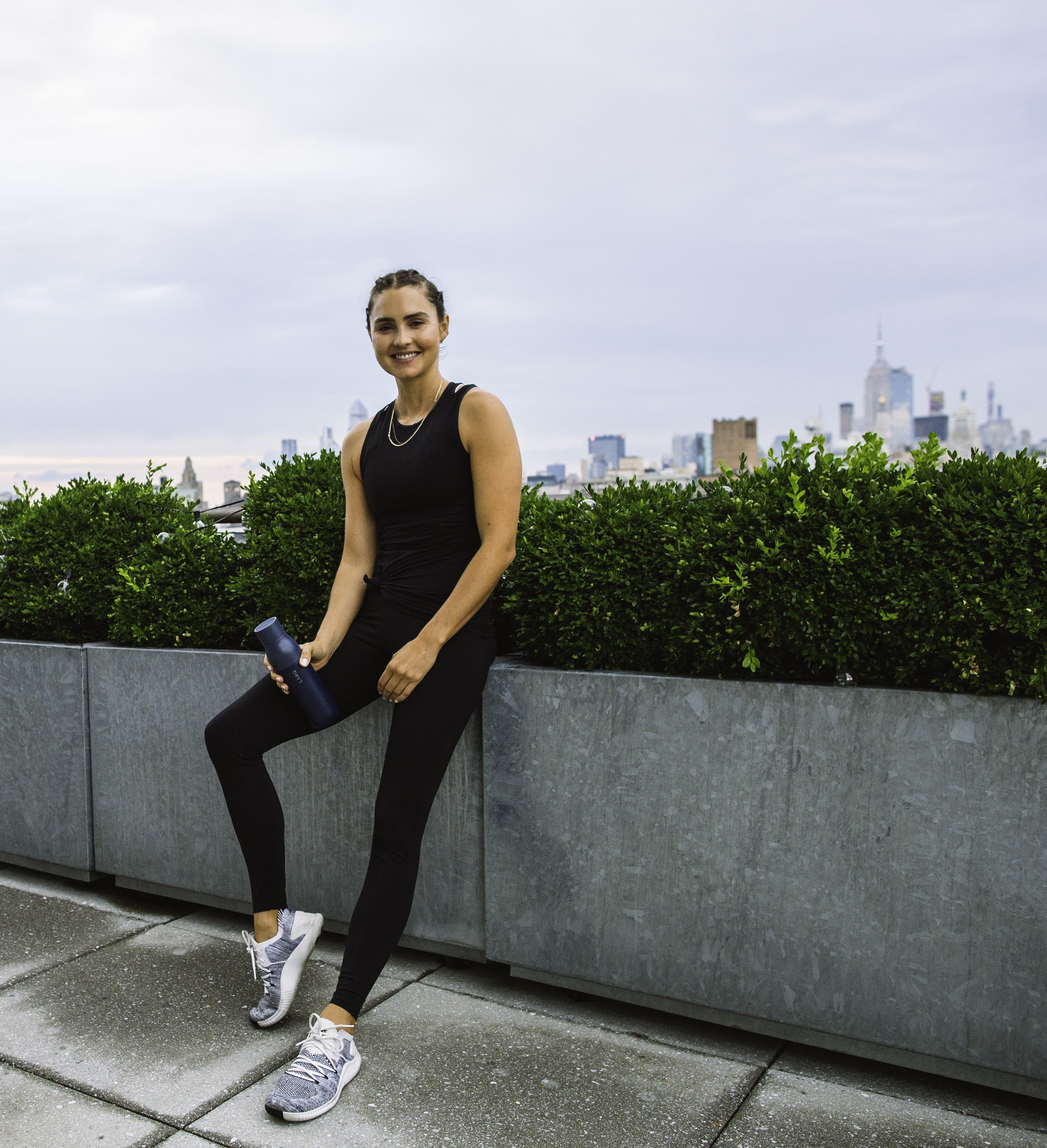 Photo via @kirstygodso
Kirsty has a fiery and energetic personality that makes you feel hyped up and ready to take on anything. She explains her philosophy, "Energy and how you treat your body are a direct transfer onto others, I am incredibly passionate about trying to help others live a healthier life so there is an accumulative positive effect from it."
Naturally, we were curious to learn from an expert–how does one maintain wellness while traveling?
Biggest mistakes people make
The major mistake people make in regards to working out while traveling according to Kirsty is that people overestimate how much time they need for a good workout. "It doesn't need to be an hour. You can work out for 20 minutes and still stay fresh while traveling." The important piece is using the time you have to work out.
Maximize the time you have for workouts
If you have a packed schedule and can't work in a 40-minute or 1-hour workout, Kirsty advises to break up your workouts into smaller portions. "I might not have a full hour in my schedule to work out but I will have 15-minute gaps where I can get stuff done!" In these 15-minutes she will do a circuit consisting of 3 exercises and do 4-5 sets of each, then repeat this 15-minute workout 3-4 times a day. Kirsty adds, "It's not ideal but it's a great way to get little energy spikes throughout the day and make sure I'm still getting in some of my training." When you're traveling sometimes you'll only have small windows to work out, but making the effort to use that time wisely will keep your excuses in check and help you get your exercise in for the day. When you're back home and can follow your usual workout schedule, you'll be back on track without feeling slow our "out of it".
Photo via @kirstygodso
Kirsty's Travel Workout (zero equipment)
Kirsty's no-equipment program called "Burn" on the Nike Training Club app is perfect for travel. The program is entirely bodyweight and designed to get you lean and confident wherever you are. "You can blast these workouts anywhere–in your hotel room, the shabbiest of hotel gyms, a park, etc." The workouts range from 20-40 minute durations so they're easy to fit into any schedule. Kirsty's no-excuse mentality will whip you into shape. Just try out her program–you'll see.
Kirsty's travel workout essentials:
Jump rope
Mini bands
Gliders (hand towels will work too)
Eating habits during travel
Eating nutritiously while traveling can be a real challenge especially if you don't know what available to you. Kirsty recommends keeping a few essentials on you that will provide a baseline health routine to follow. Her must-haves for eating well on-the-go are:
Made of Whey Protein
Maldon travel size sea salt
Kirsty says, "I am essentially always traveling for work so I always pack my Made of Whey Protein, LARQ water bottle, and Maldon travel size sea salt with me wherever I go." Made of Whey Protein is a performance-driven nutritional support product Kirsty developed that has a more potent concentration of protein without unnecessary additives. Kirsty uses this as a staple in her diet to reach her protein macronutrients per day in addition to a nutritious diet.
According to Kirsty, eating well and staying hydrated go hand-in-hand, especially during travel where you might feel fatigued quickly. The LARQ water bottle is perfect and easy to carry, plus it purifies water so Kirsty loves to travel with it and fill up wherever she goes. She adds, "I travel a lot and to a variety of countries so I love taking my LARQ bottle. It makes me feel confident when I'm hydrating on the go what I'm drinking clean water."
The salt is the funny one–we asked about it, and she explained, "bad salt in food can make you inflamed so I prefer to travel with my own!" Being mindful of the food you eat and what you put in your body is a huge point Kirsty aims to drive home. You get what you put in.
As far as eating out goes, Kirsty will search for local restaurants that are more farm-to-table style and has healthy alternatives that don't contain gluten, soy, corn, bad oils, and refined sugar. "You can really destroy a trip somewhere if you aren't used to these things in your food and then all of a sudden your system is attacked with them."
Stay Hydrated
Kirsty explains that staying hydrated is one of the most important things to do every day to stay energized and boost mood. When you're dehydrated, you're left feeling lethargic. "By the time you're dehydrated, it's a little bit late. You can't just guzzle down a large amount of water. Your system doesn't recalibrate right away. You want to try and keep your water intake flowing across the day so you never hit a point of feeling sluggish and slow." Dehydration is linked to jet lag too. Is that enough motivation to stay hydrated?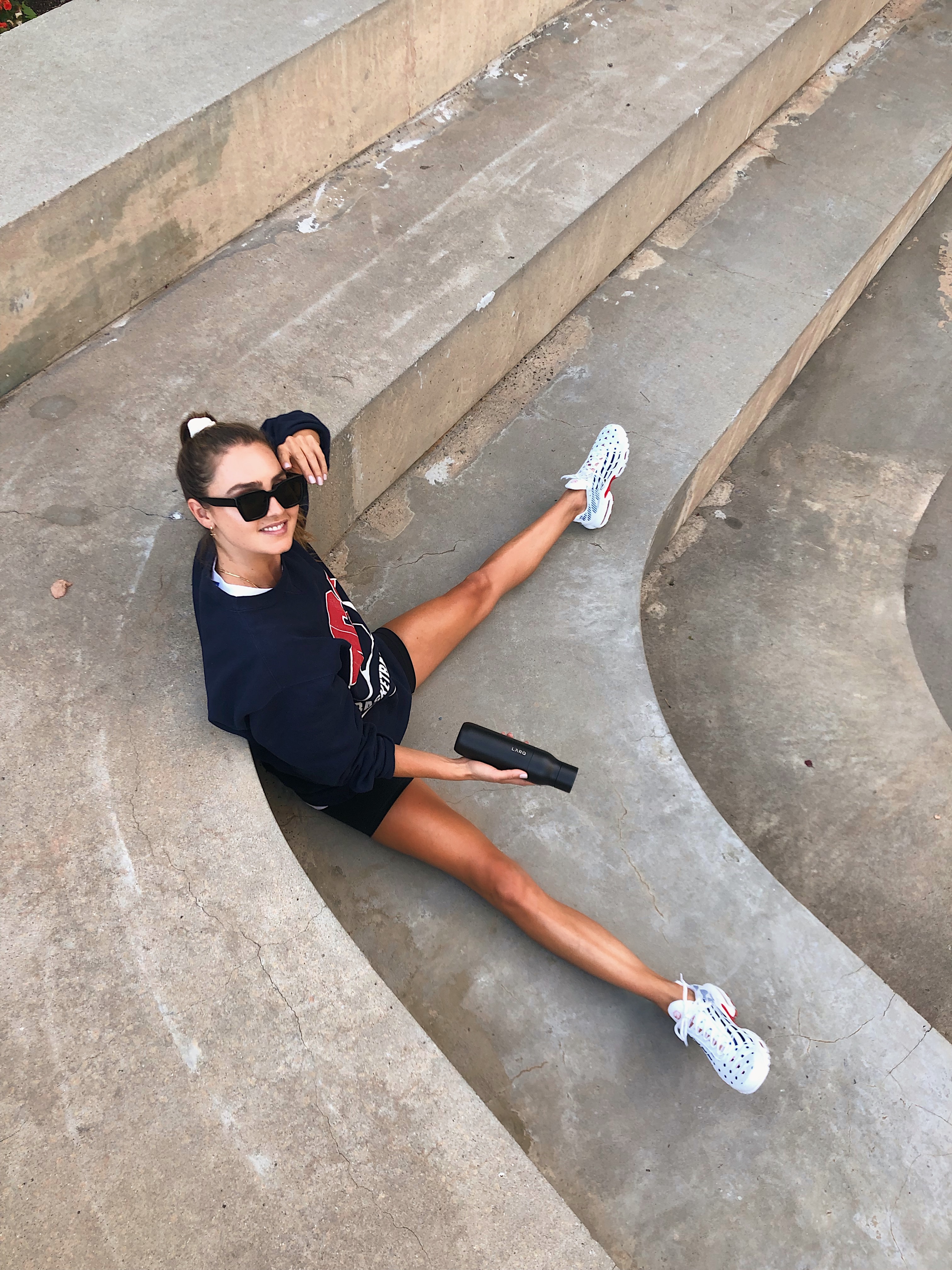 Photo via @kirstygodso
Living a healthy and balanced life
Being healthy is all about balance in life. Kirsty stresses the importance of living well in all aspects of life: physically, nutritionally, and mentally.
Physically, Kirsty puts emphasis on prioritizing sleep and recovery a lot more than she used to. It's important to listen to your body and give it time to rest between intense workouts so they can properly recover. "The world we live in is increasingly demanding and that definitely takes its toll. I definitely warm up much more efficiently than I used to and always take the time to glute and core activate before jumping into any workout." Glute and core activations are important to strengthen them and have a major impact on your overall body strength. They support many compound movements that help you avoid muscle imbalances.
Kirsty is very mindful of her conversation with her body and food, referring to food as food, and not as calories or "treats" and so on. "The verbiage you use around food is very powerful so make sure you're feeding yourself the right things physically and literally." Put good in, get good out. Your fitness and health results rely on your eating habits too, so make sure your fueling your body with proper nutrition.
We all deal with day-to-day stressors, and Kirsty is no exception. She has learned to focus on breath-work and slowing down where possible. She says this method has helped her a lot in the way she responds to things rather than reacting. "Sometimes I might need to sit on something for a while to let it pass then reply when I have digested it and have a calm response."
Breathing exercises and pushing pause are methods that we can all benefit from. We talk about meditation a lot here and this is definitely something that can help anyone live a more balanced life. Sometimes you just need to hit pause and take a moment to be in your own head in order to gain some clarity and calm.
There's no secret sauce here when it comes to living a healthier lifestyle and balancing travel with exercise. Kirsty's no-excuse philosophy makes working out while traveling all about maximizing time, being mindful of what you put in your body, and staying hydrated.