Posted by Elaine Tu on Jul 23rd 2019
Here's something you use every day--toothpaste (hopefully twice a day). And it's been slowly poisoning the planet for decades. Well, to be clear, we mean the tube that the toothpaste comes in.
Toothpaste tubes are made primarily of plastic #4 or some type of aluminum-plastic composite, which only certain waste facilities will process for recycling, which means much of it ends up in the landfill. And let's be real, most of us are pretty diligent about recycling when it comes to the office or even in the kitchen, but when it comes to the bathroom, just about all of that goes down the drain (pun intended). So what's the solution here?
For #PlasticFreeJuly, we're excited to share with you an interview we had with Lindsay McCormick, founder and CEO of Bite Toothpaste Bits. She's killing the sustainability game with her groundbreaking toothpaste product that is all-natural and zero waste.
Bite Toothpaste Bits are little pellets--they're called Bits--of all-natural toothpaste that only require a wet toothbrush (and a good ol' bite) to activate--hence the name. They're packaged in refillable and recyclable glass jars and shipped 100% plastic-free. They use 100% recyclable mailers made from recycled newspapers and sealed with paper tape. They've pulled all the stops when it comes to nixing plastic completely.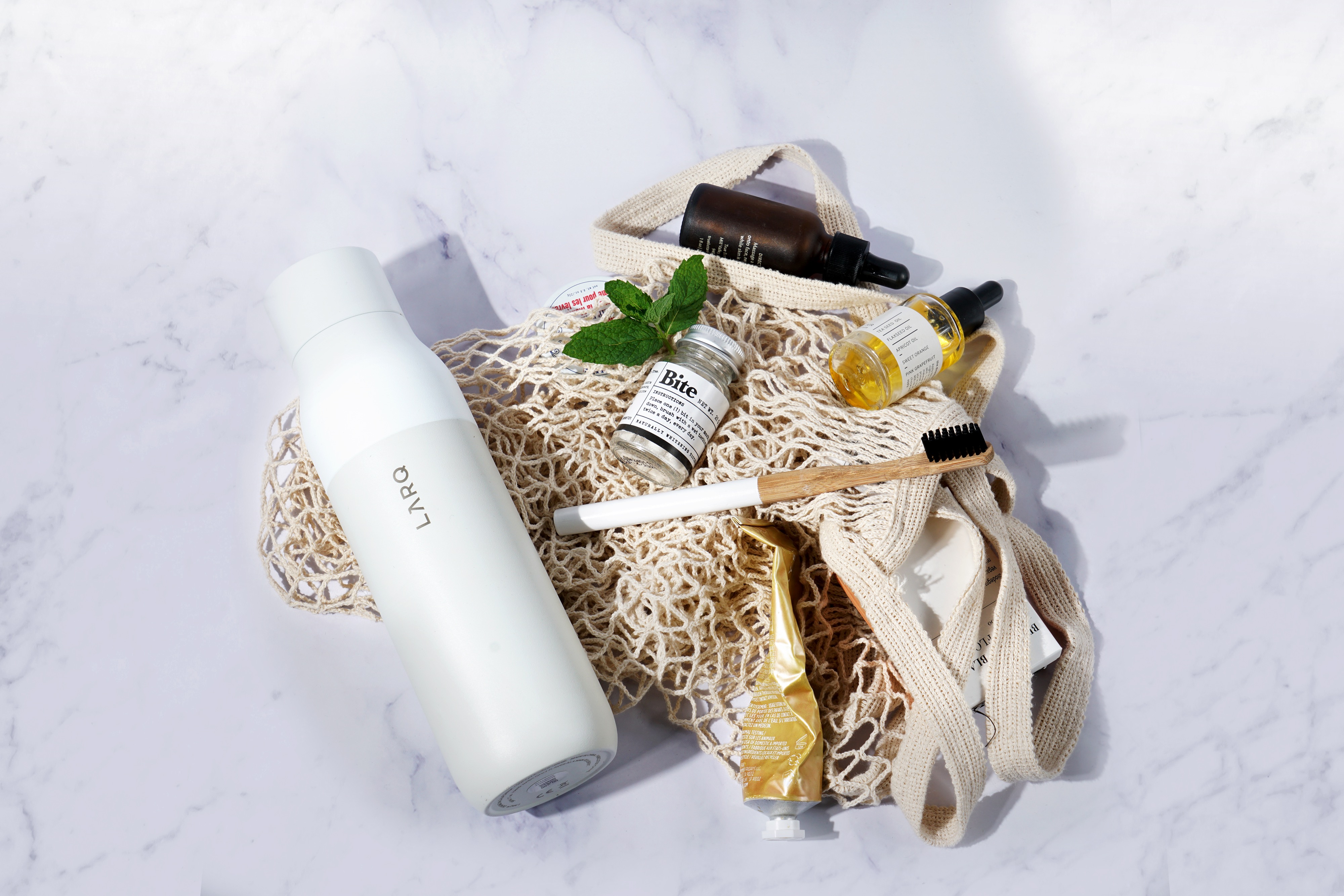 Image Courtesy of Bite Toothpaste Bits
Lindsay founded Bite in August 2017 with the desire to keep plastic toothpaste tubes out of landfills and harsh chemicals out of our bodies.
"I was traveling all the time for my job as a TV Producer when I realized how much waste I was creating just by brushing my teeth. After looking into alternatives, I discovered all the questionable ingredients that were in toothpaste and that there were not only travel-friendly, plastic-free alternatives so I decided to make my own." - Lindsay, founder and CEO of Bite Toothpaste Bits.
Elaine: What was the process like creating a sustainable toothpaste brand and product? What kind of challenges did you face?
Lindsay: I started Bite as an advocate for sustainability— I was not trying to start a company rather I was trying to create a change. Bite is relentless in our pursuit of being the most sustainable oral care company on the market. We're listening to our community, hearing their wants and needs and then finding ways we can make that happen.
Toothpaste is something people have used twice a day, every day for their whole lives so asking people to change a habit that is so embedded in them was no easy feat. Luckily, consumers are becoming more and more conscious of their daily habits and the environmental impact they might have and are willing to take a chance on a new product like Bite.
E: How do you use the toothpaste bits?
L: Brushing with Bite is as easy as Bite, Brush, Smile, Repeat. All you do is bite down on a Bit and start to brush with a wet toothbrush and it will start to foam up like magic!
E: When did your passion for sustainability start?
L: For as long as I can remember I have been obsessed with all things sustainability and the environment. As a kid, instead of asking for presents I would always ask my parents to "adopt" a specific animal in my name. They would then send a check in my name to the World Wildlife Fund and weeks later I would get a photo along with information on the animal I "adopted." From Orca Whales to Ocelots I basically adopted every single animal I could. I've always wanted to make a positive impact on the world.
E: What do you think is the most challenging part of living a sustainable lifestyle?
L: It's unfortunate that most unsustainable activities are incredibly convenient. As a society, we have placed convenience over sustainability in every way. Whether its remembering to bring your own bag or reusable cup, you're going to have to make more conscious choices about your daily activities. The good news is that after you've been doing it a while it no longer feels inconvenient it just feels normal!
E: What are some changes you've made towards a more sustainable lifestyle at home? At the office?
L: Since our home also functions as our office I made it my priority to make it more sustainable. I've looked at the things that I do every day and made sustainable swaps for them. Whether it's swapping out a plastic tube of toothpaste or swapping out regular toilet paper for bamboo toilet paper. Although those may seem like small changes— those small changes really add up. Mason jars for all leftovers and reusable food wraps made of cotton instead of saran wrap.
E: What are some products you stopped purchasing because of their environmental impact? What are some alternatives?
L: I've stopped buying drinks in plastic containers. Whether that's bottled water, juices or sports drink— If I can't fill it in my own cup or buy it in my own bottle I'm just not going to buy it. In our office and in my house we're tree-free. We use cloth napkins and dishtowels. Even our toilet paper is made out of sustainable bamboo. In my skincare routine, sunscreen has always been a must for me. I used to be a surf and snowboard instructor and was always slathered in sunscreen. One of the switches I made recently is switching to a mineral-based, natural sunscreen called Nani La that comes in an aluminum container with minimal plastic.
I switched to a mineral-based sunscreen because the chemical UV filters in many sunscreens are bleaching the coral reefs and damaging the ocean.
E: What are your favorite products that help you live a more sustainable lifestyle?
L: Well…. I can't not say Bite. I love starting off my morning and ending my night doing something I feel good about. Also, I recently bought one of those cute, insta-worthy zero-waste net bags which has quickly become one of my most used purchases. I cram three canvas bags worth of groceries into my net bag. All of the cups in our home and office are mason jars because not only can you use them to drink out of on a daily basis but also as leftover containers.
E: What is a guilty pleasure of yours that you wish was sustainable?
L: Real talk… take out. I always opt out of cutlery and napkins for to-go orders and I love supporting restaurants that use paper bags instead of plastic and paper boxes instead of plastic boxes. I still feel guilty when I do this because it is way more eco-friendly for me to be cooking my own meals. I try to opt for restaurants that use more sustainable packaging (I'm vegan so typically these go hand-in-hand anyway), but I still feel a little bit of guilt when the Postmates rolls up with a paper bag and excess amount of packaging.
E: What are some parting words you'd like to leave for our readers?
L: Every person and every brand for that matter has the ability to shape and influence the way people think, see and act every day. Whether it's mindlessly tossing out an empty plastic toothpaste tube or glossing over the ingredients list, our daily habits can and will shape the future of our planet. Although you are one person, we are all one person and that's a lot of people so you are going to have an impact on the world whether you realize it or not. We want to inspire people to make it a good one.
Something as simple as toothpaste tubes is something many of us never even think twice about, but people like Lindsay who are practicing mindfulness and bringing awareness to issues like plastic consumption in toothpaste packaging are driving the mission of saving this planet forward. It makes you wonder: what else do you use every single day that uses plastic? Can you find an alternative?