Posted by Elaine Tu on Sep 5th 2019
If you're reading this, you've already got the first step of self-care down–acknowledging that it's an essential in life that you just can't overlook. Self-care is about taking care of yourself–mind, body and soul, and that means satisfying your basic needs and nurturing yourself so that you can live a happy and healthy life no matter how stressful life gets.
Invest in your sleep
Your bedroom is your sanctuary–it's where you recharge and recover every night. It's important to keep this space uncluttered and furnished with things that help you sleep easier night after night.
Keep your bedroom uncluttered
Take time every week to reorganize your bedroom–we're sure things get tossed here and there throughout the week, so taking a weekly or even twice-weekly cleanup session for yourself will keep things neat, uncluttered, and stress-free. A clear space helps you clear your mind.
Build a bed you'd never want to leave
Invest in quality bedding that makes you feel good from the time your head hits the pillow to 'til your alarm goes off in the morning. You should feel refreshed and well-rested, and hopefully, no aches in your back or neck.
Organic certified Green Mattress and Pillows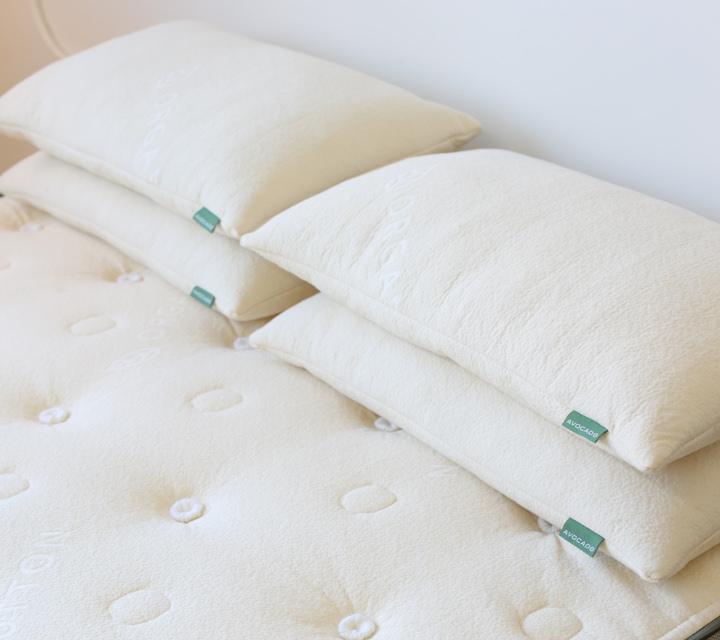 Courtesy of Avocado Green Mattress
Take it 10 steps further and look for organic, non-toxic, and environmentally conscious bedding. Avocado Green Mattress–a mattress made entirely of the finest natural and organic materials, including GOLS organic certified latex, 100% GOTS organic certified wool and 100% GOTS organic certified cotton–is one of our favorites along with their Green Pillows that you can actually unzip and feel the organic latex and Kapok fill–you know, in case some of you out there were skeptical. They use a zoned, internal, pressure-point support system that you won't find in an all-foam mattress. This is designed to ensure that your hips, shoulders and back are always in proper alignment. The result is a mattress that is supportive enough for adult back, stomach and side sleepers as well as growing children and teens. Plus, they're partnered with 1% for the Planet (just like us) so 1% of your purchase benefits environmental projects around the world. Good for you, good for the planet.
Silky smooth bamboo lyocell sheets
Courtesy of Ettitude
Gone are the days of measuring your nightly comfort by thread count. Ettitude's 100% organic bamboo lyocell sheets are silky smooth, extremely breathable, antimicrobial, hypoallergenic, saves water, and feels more luxurious than 1300 thread count Egyptian cotton sheets. They truly are silky smooth and have even tricked people into thinking they're silk here at the LARQ office. Yes, they're that good. You won't want to go back to cotton after sleeping in these.
Cruelty-free cashmere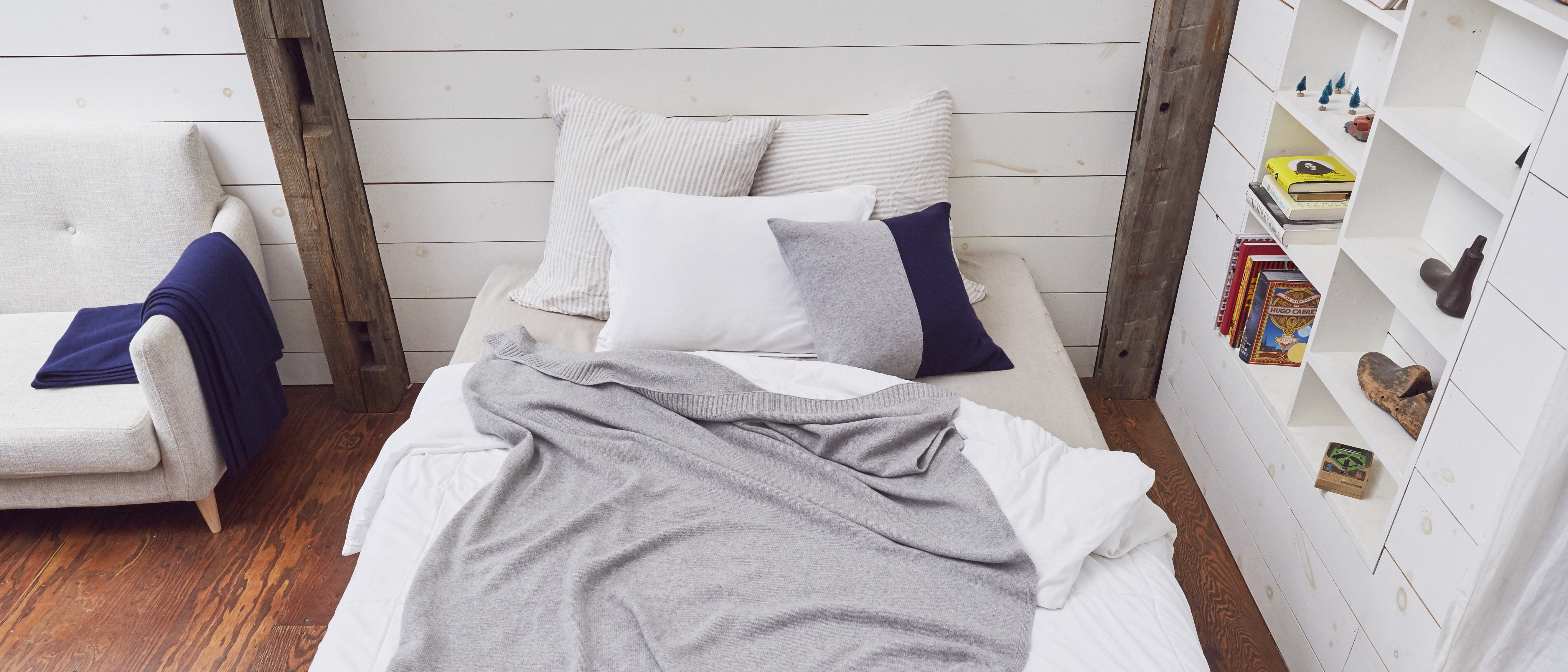 Courtesy of Naadam
If we're talking about self-care here, we want you to know that it's anything that makes you feel like royalty. Cashmere gets a bad rap for being difficult to take care of or going into some weird territory when it comes to animal welfare. However, Naadam has changed things in a way that will get you to wear cashmere again. Naadam is a sustainable apparel company that creates the most luxurious cashmere pieces for men and women without toxic chemicals and a smaller carbon footprint. They also pride themselves in taking care of their nomadic herders and investing in breeding and vaccination programs to keep their goats happy and healthy. The Kilo cashmere throw is one of many products we love from Naadam. It's the perfect size to snuggle up in by yourself or with someone special (if you feel like sharing), and it'll add that Hygge touch to your bedroom that you've been wanting since reading that Scandinavian bedroom inspo article a few weeks ago.
Take care of your skin
Comfort shouldn't end at your bed. Everyone should be spending a little more time pampering themselves with skincare, but the type of skincare products you use matters. Clean beauty has quickly become a trend in recent years due to an overwhelming awareness of the unnecessary chemicals we traditionally find in skincare products. Free from all these chemicals that can very well contradict the point of practicing skincare, we have a ton of emerging and established clean beauty brands we can count on to keep our skin bright, healthy, and happy. ASARAI is an australian skincare brand featuring all-natural ingredients aimed to brighten, purify and combat signs of aging. They're best known for their Earth Tones mask–one of our personal favorites as well. We also love Indie Lee's line of skincare for their cleansers, eye serums, and moisturizers that keep skin hydrated and healthy.
Drink more water
What goes hand-in-hand with skincare is proper hydration. Dehydration can cause health problems as well as drying out your skin and contribute to aging. Stay healthy and drink your recommended daily intake of water. The best way to do this is by using a reusable water bottle you love that makes access to clean water easy, convenient, and plastic-free. The LARQ Bottle uses UV-C LED technology to neutralize bacteria and viruses in your bottle so your water and bottle remains odor-free and squeaky clean after every sip or refill. This way, you can keep drinking more water and hitting your hydration goals way quicker.
Do things that make you happy
Do you like to curl up with a good book in your bed? Do you like listening to music after lighting a few candles? Or do you love playing basketball every evening or going hiking every weekend? Whatever it is you like to do, do it more. It's not being lazy or wasting time–sometimes you just need your "you" time and that's totally okay. Self-care is about exactly that–taking care of yourself whether that's emotionally, physically, or psychologically.
Do things that make you healthy
Nourish yourself from the inside out by eating whole foods. Eating a proper diet is one form of self-care that is constantly overlooked. Yes, if you feel like eating at that fried chicken joint you should do it, or that cupcake that was calling name at the bakery, just don't overdo it because soon, you'll find that it doesn't make you feel good at all. Eating a nutritious diet will help you feel good inside and out.
And as important as a nutritious diet is, exercise is just as important. Find something active that you enjoy, whether it's just walking around the neighborhood or going full force into crossfit, you're bound to find something that will keep you happy and healthy for years to come. Exercising prompts your body to increase endorphins that make you happy; in fact it's been proven as one of many ways to reduce stress.
Meditate
We've talked about meditation quite a lot here and for good reason. It's a self-care practice that not enough of us participate in. Even a minute a day can do wonders for your mental health and help you feel at ease. Read more about meditation apps to use and if you're a beginner, how to meditate.
Schedule "me" time
We're talking full-on Google Calendar time slots blocked for your "me" time. Why? The act of scheduling something on your calendar can propel you into actually doing it. Even if the "it" is absolutely nothing. Having a scheduled time for yourself will help you fill it with things that you want to do–things that make you happy, whatever that is. It holds you accountable for actually taking that time for yourself.
Put some money aside for yourself
As adults, it becomes harder and harder to set money aside for yourself. If you actively do this, you're consciously investing in your own self-care. That money can be put into getting a massage or going on a weekend getaway, or even paying for the new mattress and pillows you desperately need. It doesn't have to be a lot, but the simple act of doing this will help you prioritize self-care especially in moments when you need it.
Prioritizing self-care as part of your lifestyle is essential for long-term health and happiness. With simple shifts in your life, in the products you choose, and where you attribute value, you'll sleep better, live better, and care for your mind, body and soul. Just what you needed all this time.