Posted by Elaine Tu on Jul 30th 2019
If Marie Kondo wasn't enough to get your bedroom into tip-top shape, we're here to help. After all the cleaning and organization (we DON'T love a mess), your bedroom was probably immaculate but left feeling a little… simple? After perusing Pinterest for bedroom inspiration, you probably have some clue of what your style might be, but what do you actually need to know to style your bedroom to Pinterest-worthy recognition? Here, we'll tell you.
Size up your duvet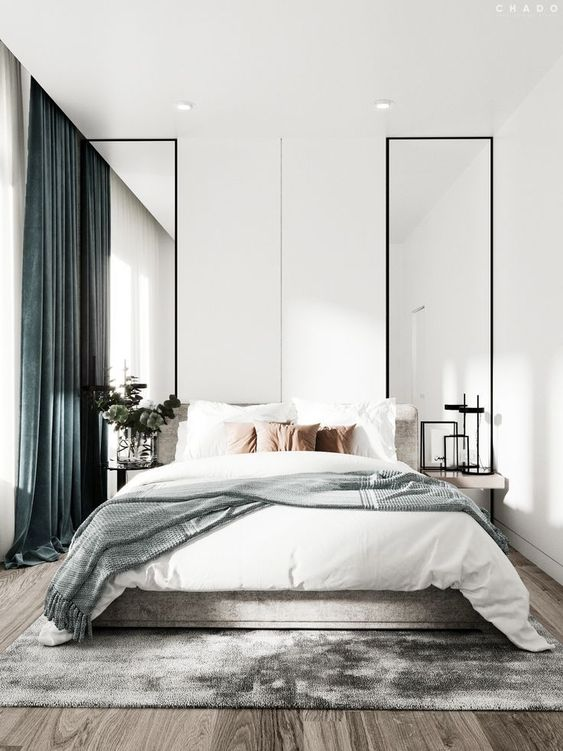 Photo by Crunchhome.com
Go a size up for duvets/comforters to get that draped-over-the-bed look. It's not that your bed won't look good without, but if you have a bed frame you don't love, have storage under the bed, or just like the draped-over look, sizing up is a neat little trick to achieve this! Going a size bigger for your duvet will also give you more coverage--especially if your partner likes to steal the blanket at night.
Keep a low profile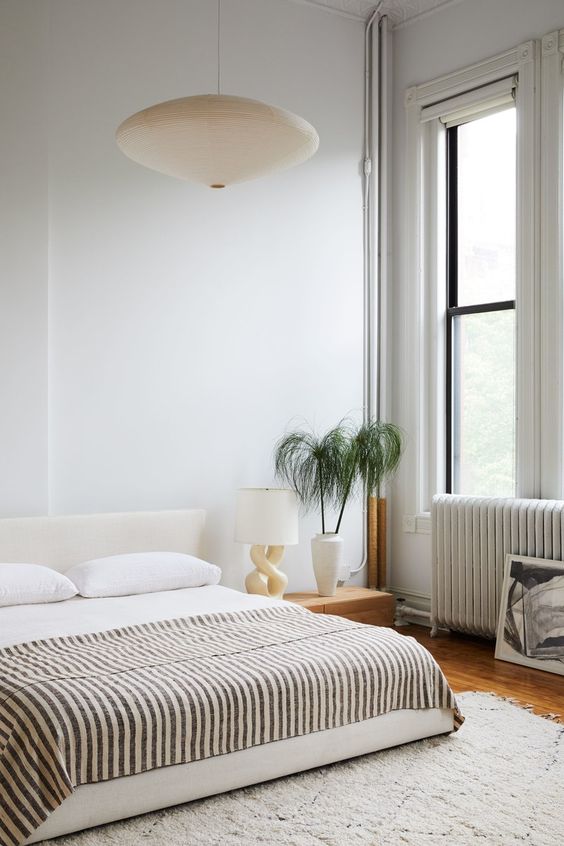 Photo by Architectural Digest
Low profile furniture makes your ceilings feel higher and more spacious. A low profile platform bed is the perfect way to make your bedroom feel more zen too--who doesn't want that in their bedroom? You'll want your nightstands and anything adjacent to the bed to be low-profile too so there isn't a huge clash.
Artwork, meet bedroom.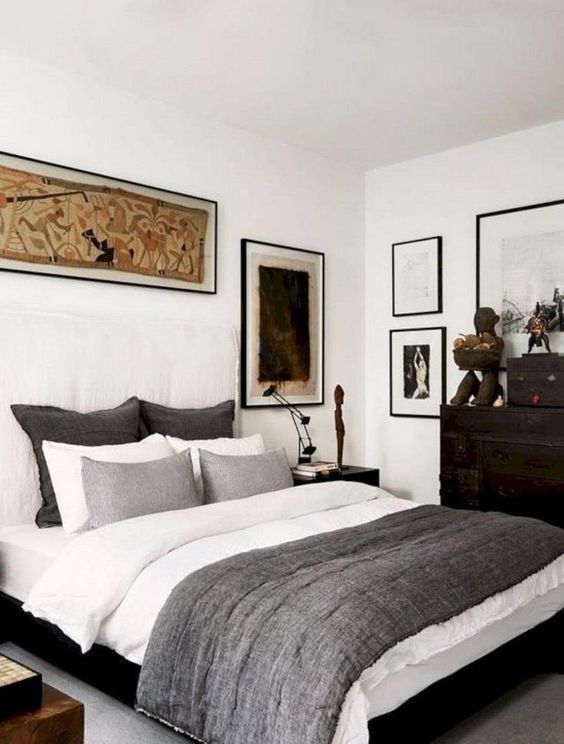 Photo via ensidecor.com
Everyone's style is different, but artwork--no matter what your taste preference is--speaks volumes on your style without needing a whole lot of decor. Opt for something contemporary, a watercolor painting, or even a tapestry to completely change the personality of the room. Here, minimalist meets the world with ancient-era wall art and figurines.
Rug Placement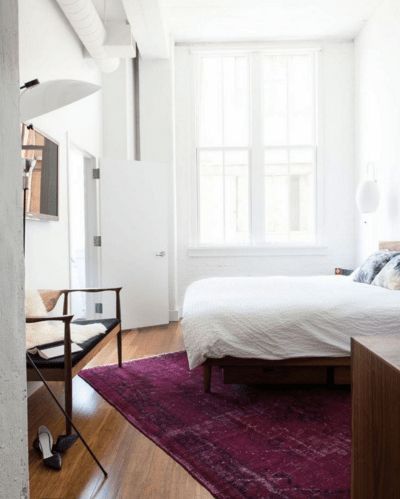 Photo via domino.com
A rug can convey a lot of different things in a room from being a piece of artwork in itself or making the space feel cozy, depending on the design or pile height. Size matters too--you'll traditionally see a rectangular mattress under the bottom half of the bed. It's also fun to play with rug layering too to combine textures. Pictured here, a new age diagonal rug placement draws the eyes down and makes a statement without a lot of effort!
Symmetry
Photo by mydomaine.com
Symmetry in a bedroom can make a room look more put-together. This includes having two or more pillows on the bed, two sconces on either side and even two nightstands. This will also provide balance, which is important in making a bedroom feel less cluttered. It doesn't mean that everything should be exactly symmetrical, of course; intentional decor and "un-done" bedding can bring it back to life and make it look less stiff.
Lighting is everything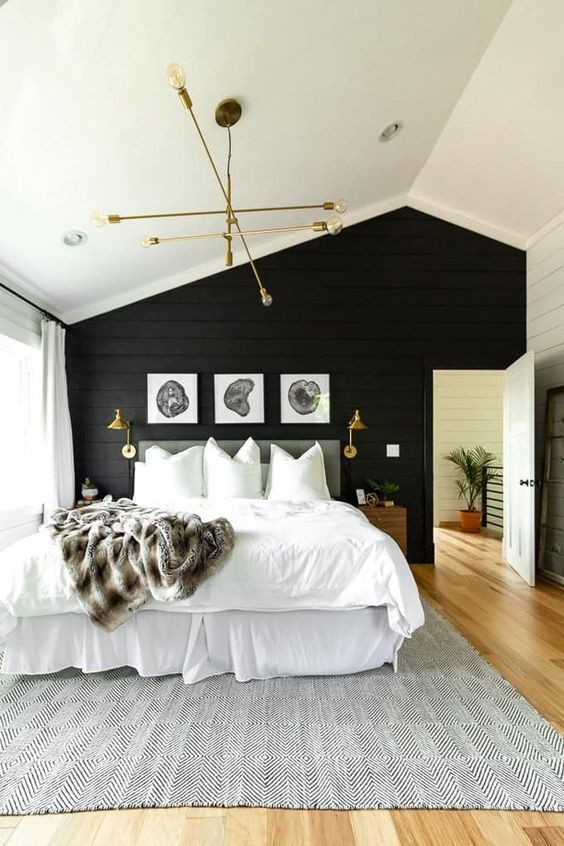 Photo via breyi.com
Seriously, don't skip the lighting elements, which aren't just for lighting the area. Pendant lights, sconces, lamps, and desk lamps can make a huge statement aesthetically in a bedroom too. Coordinate the fixtures for these to make to a bedroom look complete. Pictured, these brass fixtures pull the bedroom look together, and they make a massive statement against the black ship panel wall.
Color Palette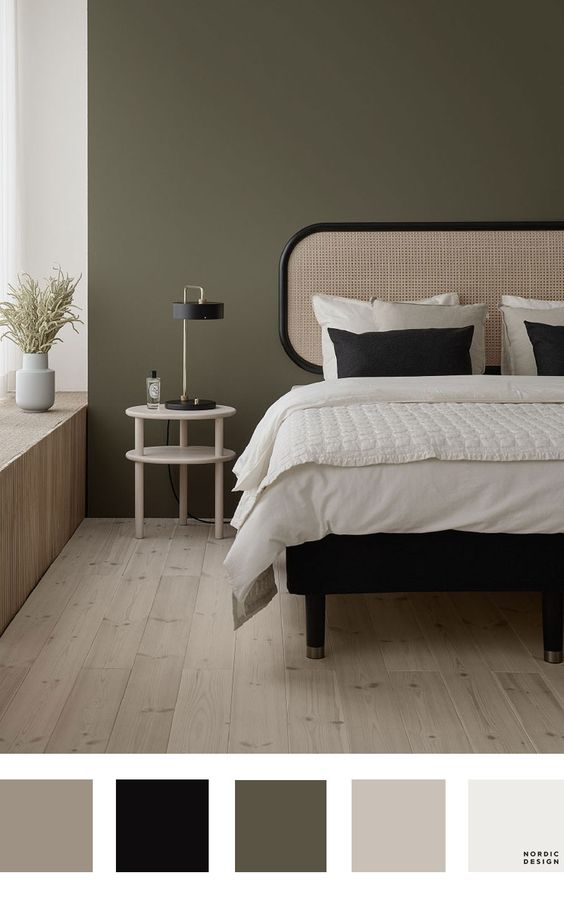 Photo by Matri via Nordic Design
Stick to a color palette. Depending on what your style is, a good way to ensure a bedroom look that will stand the test of time is a palette that is versatile, i.e. neutral. We're not saying you can only stick to black and white, but having a few key colors to stick to are important for keeping the overall look balanced.
Textures = unboring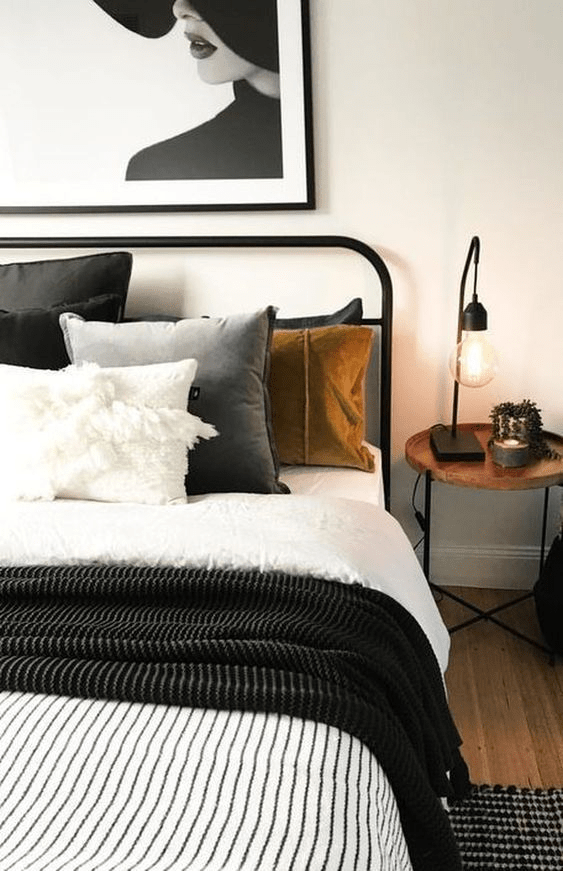 Photo via Tumblr
Play around with textures! Nothing makes a room look flatter then a lack of texture. Breathe some life and interest into your space by using wire grids on the wall, a chunky knit throw, or even layered rugs! In this styling, we see playfulness with textures like velvet, knits, and even a stripe pattern.
Indoor Plants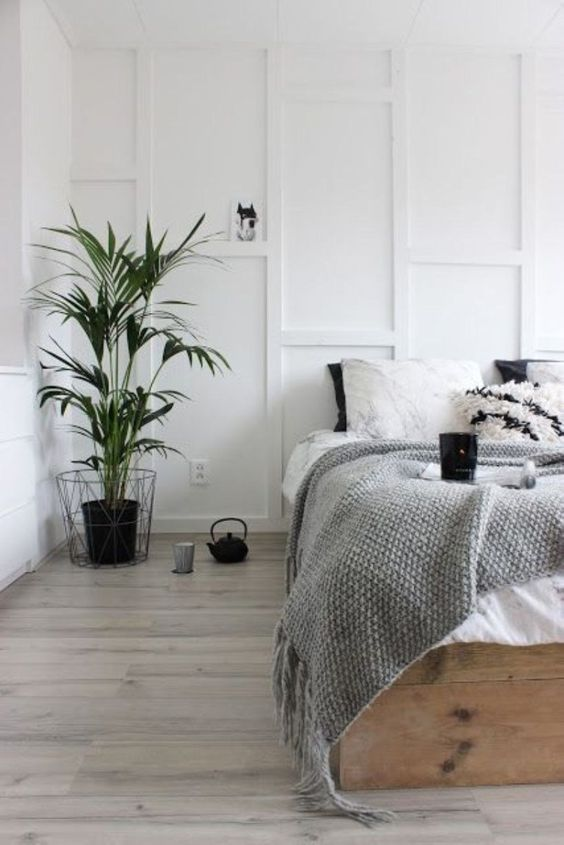 Photo via decoraiso.com
Are you tired of hearing about indoor plants yet? We aren't. Indoor plants liven up any room, and some offer benefits like air purification (since we got water purification covered with the LARQ Bottle). They're also super easy to take care of. If you don't want to do a real plant, you can even opt for art prints you can find on Etsy that will give a similar effect without a smidge of responsibility.
Mirror Mirror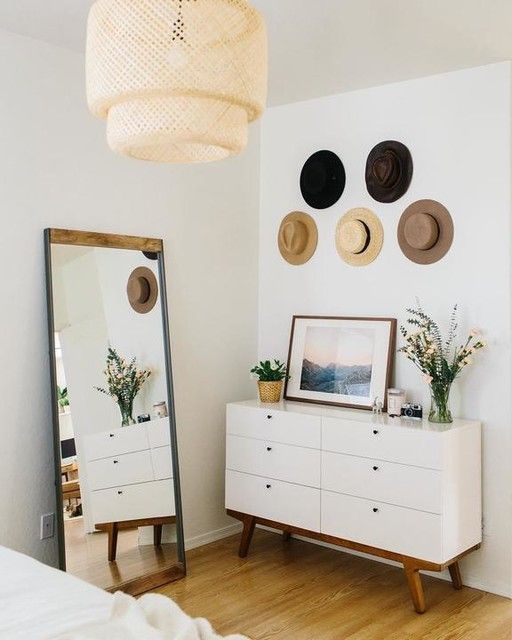 Photo by West Elm
Did you know that restaurants use mirrors to make the space feel bigger? You can use the same idea with your bedroom. Although some feng shui experts would advise not to face a mirror towards your bed, mirrors do make your room appear slightly larger and add texture as well as function. And you can face them towards something else, like your door (good feng shui)!