Posted by Elaine Tu on May 23rd 2019
Summer is coming and we're in dire need of some vacation time. In preparation for long haul flights we're taking this season, we've gathered some of our favorite essentials for long haul flights--some non-essential but extremely helpful--to help you along on your travels!
When it comes to long flights, the airplane essentials you need are the things that make you comfortable, makes you feel like you're at home in your bed, and can help you pass the time on the hours you're not sleeping. If you're bracing yourself for a long flight, you've come to the right place.
Make sure you've got all the essentials for long flights by using this as not only a shopping guide but as a checklist to ensure you've remembered everything. There's nothing worse than forgetting your headphones at home when you have a 10+ hour flight. Been there, done that--not fun (and had to pay $25 for crappy headphones that I'll never use again).
Let's get into this.
Personal Item / Carry On Essentials for Long Flights
Make sure that all your in-flight essentials can all fit in your personal item bag, which can vary in size depending on your airline. You'll want it in a personal item so that it can be stowed seamlessly under your seat, where you can access it quickly without getting in someone's way or asking your neighbor to move so you can grab it.
If you're only bringing a carry-on, a cool hack is to pack all your essentials in a pouch in your carry-on. When you pass TSA, take that pouch out so you can have it with you before you board the plane and not have to open your gigantic luggage or backpacking bag in the airplane and hold up the boarding process.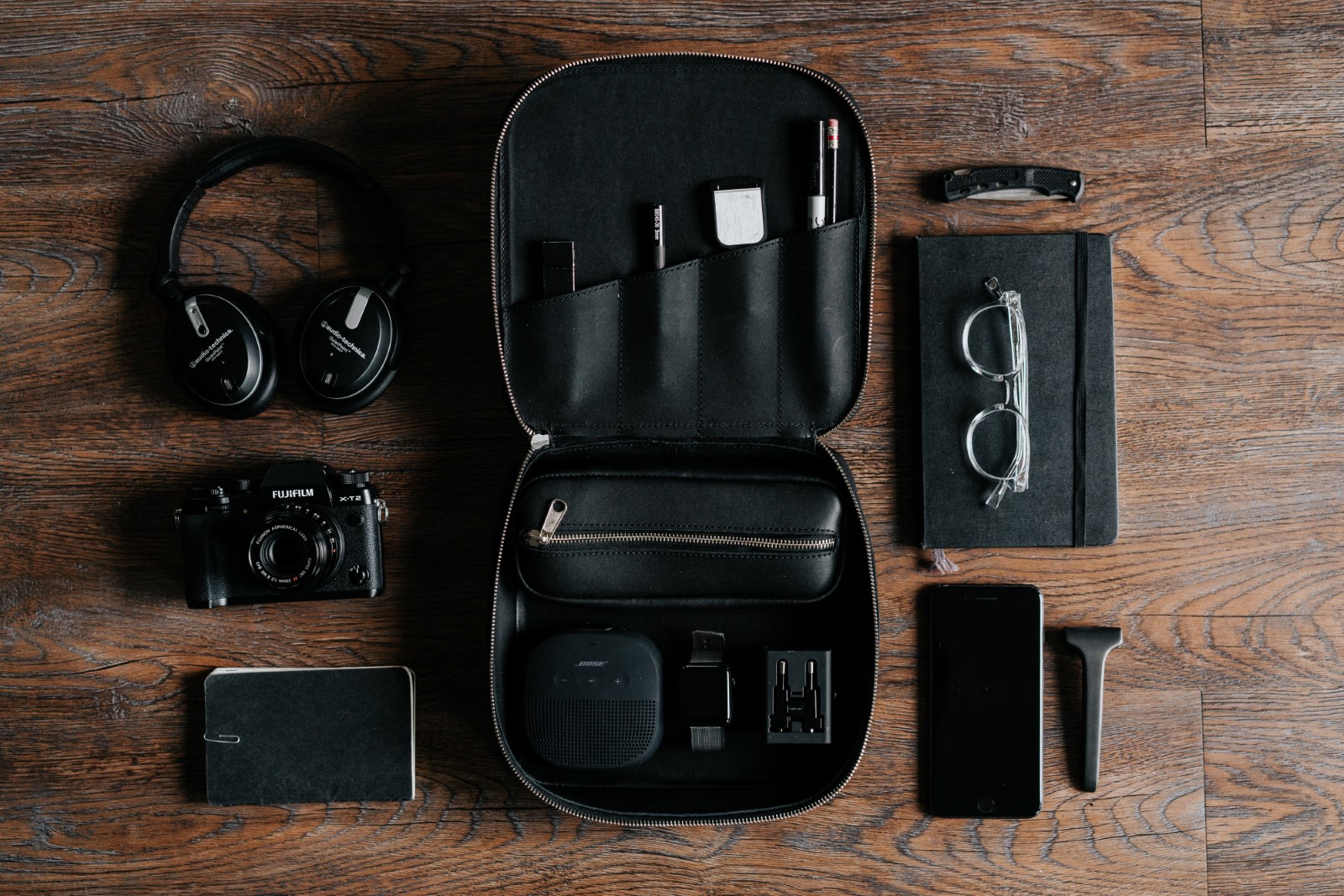 Photo by Patrick Coddou on Unsplash
Sleeping essentials for long flights
Catching a red-eye? Getting some Zzz's before you set off on your action-packed vacation? Dozing off so you don't have to make small talk with your neighbor? Don't get us started on the screaming babies on flights that make it feel like the flight is lasting an eternity. If you've been in these situations, here are a few things to remedy your in-flight sleeping woes.
Noise Canceling Headphones
Can you tell why this is #1? If you like sleeping on planes or need to (you know, to prevent jet lag), you should invest in a good set of noise canceling headphones. You'll be impervious to any screaming, crying, endless chatter, or annoying neighbor. You don't even need to be listening to anything! That's the beauty of noise-canceling headphones on long flights. Pop these on and you're instantly in your own little world.
Wired Headphones
Some airlines offer free in-flight entertainment via a screen built into the seat in front of you. You'll notice that these have headphone jacks to plug into. If your noise-canceling headphones are wireless, you might want to bring a pair of wired ones if you're planning on utilizing this amenity. Your old EarPods should do the trick.
Travel Pillow
This is about as essential as headphones. Countless times, I've witnessed people without travel pillows on long haul flights with their heads bobbing up and down or contorted in a weird position as they try to sleep upright. I get it, travel pillows are a nuisance to carry onto the plane and some just look silly--but, when it comes to getting restful sleep on a plane without the neck cramp, you'll need it.
Before getting a travel pillow, I was one of those people that would get bad neck and back pain during my trip because of the poor positioning of my neck when sleeping on the plane. If this sounds all too familiar to you, just get a travel pillow. I got this one, which includes a carrying case (more hygienic) where you can roll it up to a more compact shape and clips onto your personal item easily so you're not holding a bulky neck pillow as you walk to your terminal.
Eye mask
This is for those who are used to sleeping in complete darkness (studies show this is better for you), or for those instances where your neighbor has the reading light on the entire time while you're trying to sleep. Yikes. Try it out before you go on the flight to make sure it's not too tight and that you can actually sleep with it on. It takes some getting used to if you don't typically wear one to sleep.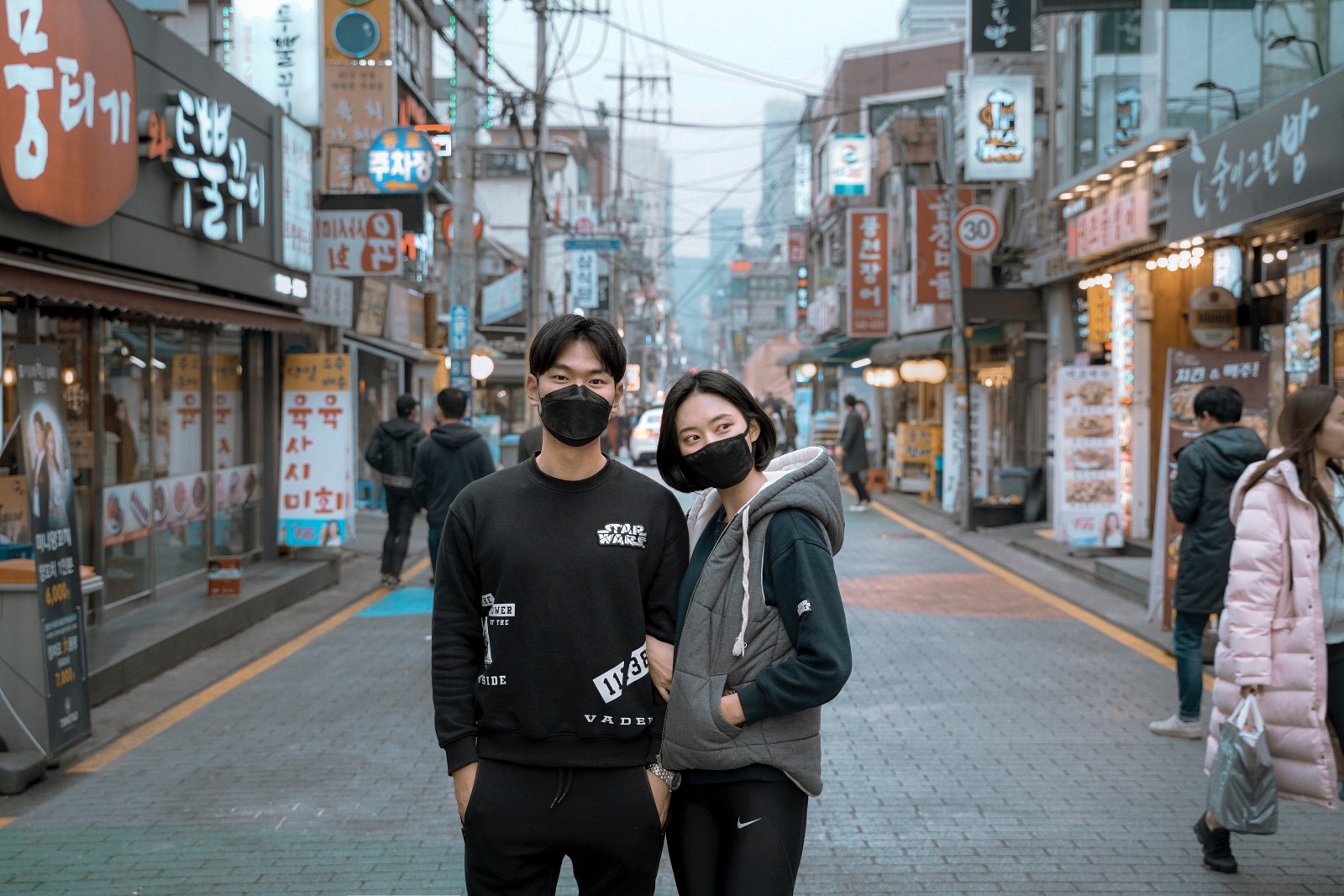 Face mask
OK, so you might look a little ridiculous with both an eye mask and a face mask, but if you're an open-mouth sleeper, this might be a solution for you! If you don't care, more power to you, but I know some people are self-conscious or tend to drool when they're sleeping. If you're one of those people and are looking for a quick solution, this is it.
Earplugs
If you're skipping the noise canceling headphones, ear plugs are absolutely essential. Not just for the airplane, but maybe even for sleeping at the hostel or if you have really noisy neighbors at your Airbnb. Plus, they take virtually no space in your bag.
Compression socks
It's debatable whether these are absolutely essential, but still, something to think about before embarking on your trip. Compression socks are made for people who will be sitting for extended periods of time to improve circulation in your legs and to combat fatigue or swelling. They also double as slippers if you're brave enough to wear them from your seat to the restroom so you don't have to put your shoes back on.
Melatonin
Sometimes you absolutely NEED to sleep on your flight in order to prevent jet lag (adjusting for the time at your destination). If you're having a bout of restlessness, you probably want something to help you get there. Melatonin is a naturally occurring hormone that makes you sleepy and can help you adjust your internal clock. When you're on a long flight, your body is all messed up on the days and time zones. It might be a good idea to take some melatonin with you to help you adjust--just use as directed!
In-flight essentials for staying awake on a long haul flight
Sometimes being on a long-haul flight doesn't mean it's in your best interest to sleep the entire 10 hours. The amount of time you should sleep to avoid jet lag is entirely dependent on the time zone of your destination. If you need to stay awake for the better leg of your flight, make sure you have a few options for keeping your mind engaged.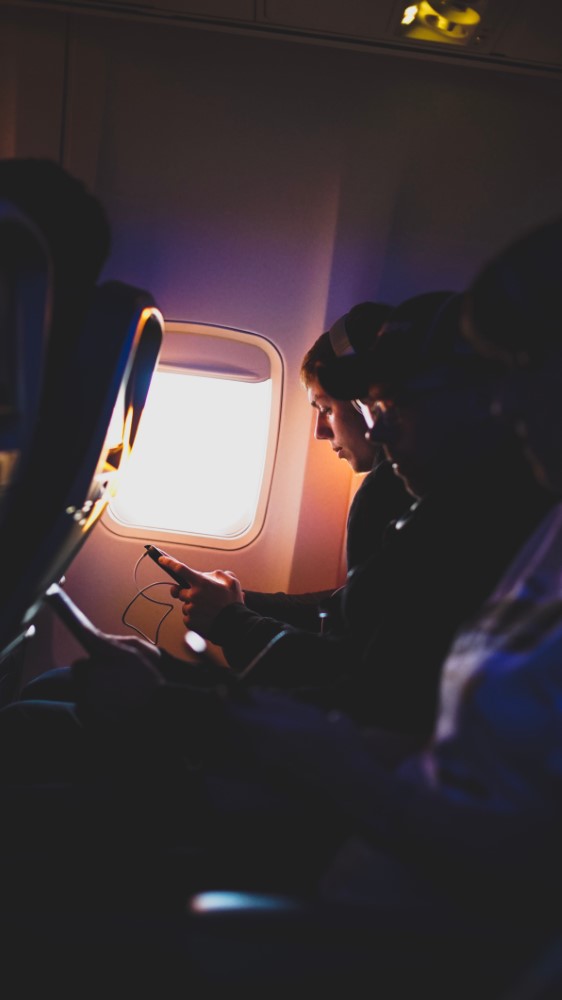 Photo by Daniel McCullough on Unsplash
Power Bank
This is a must for everyone traveling domestic or abroad. Too often I see people fighting over outlets at the airport or with a draining battery, which at that point, you're tethered to a wall for 20 minutes to an hour. Not ideal for a vacation. Save yourself the trouble and use a portable power bank where you can plug and charge your electronic devices as you're running around exploring.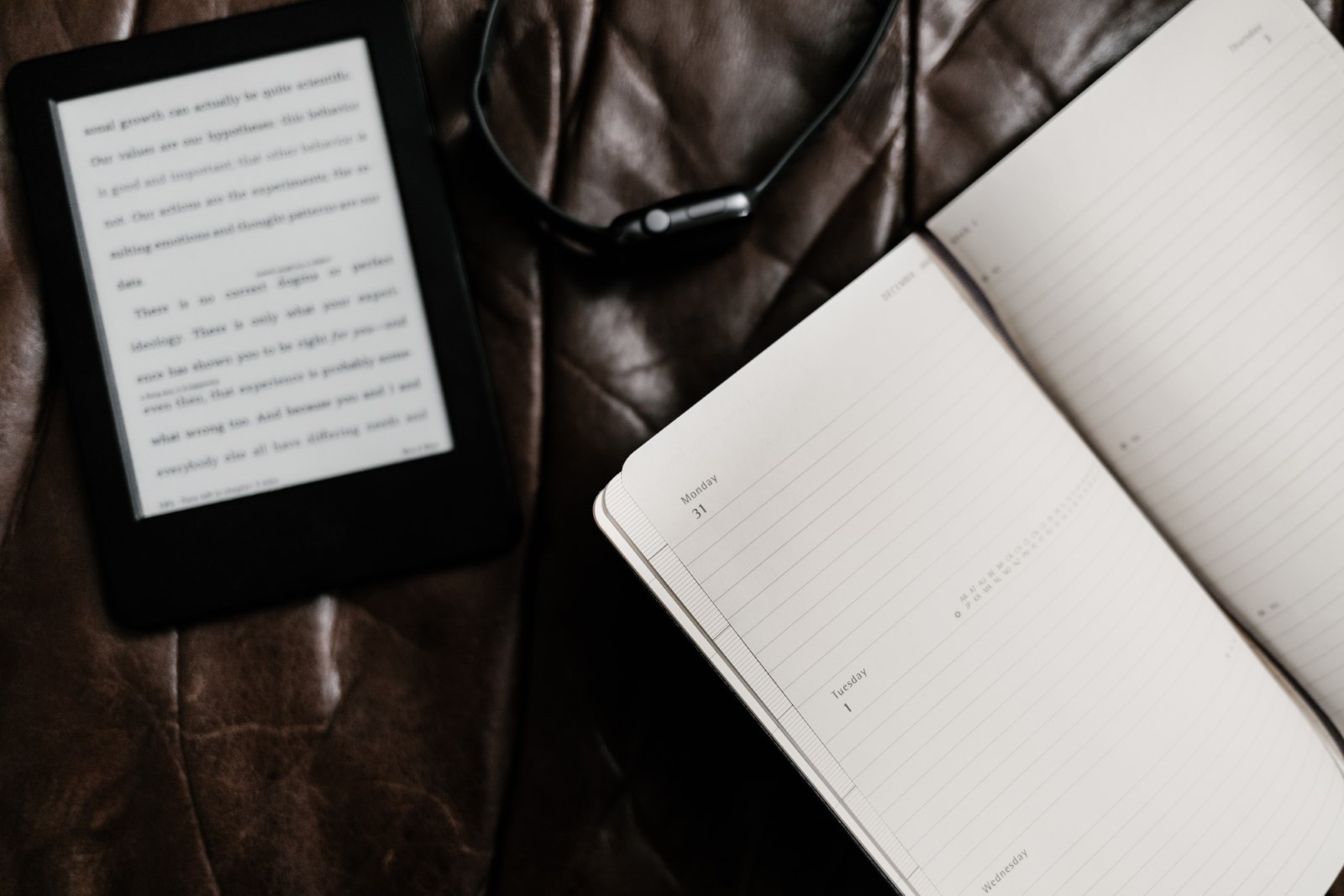 Photo by BENCE BOROS on Unsplash
E-reader
An e-reader is perfect for flights because it's lighter than a book, takes up very little space, and it's like you're bringing your whole library with you to choose from. The other great thing? If you end up finishing one of your books, you have more. We especially love the Paperwhite Kindle because it doesn't strain your eyes with blue light, which can make it more difficult for you to sleep if you needed to sleep on the latter portion of your long flight. Of course, you can always use your phone or tablet to read, too!
Journal
When was the last time you picked up a pen and paper? A long flight is a perfect place to do that again and jot some ideas or thoughts down. You can plan your itinerary, doodle, and journal your experiences as you're flying. Throw it back even more by playing a little tic-tac-toe or M*A*S*H with your neighbor.
Pen
This is simple but it's always a good idea to bring a pen with you for filling out documents, taking quick notes, etc. Just don't bring a fountain pen or something that can explode with the altitude change. Your best bet will be a ballpoint pen or the tried and true Micron felt tip pen (just make sure the cap is secure).
Pre-Downloaded Music, Shows, Podcasts, or Audiobooks
For long flights specifically, download your favorite music, shows or podcasts to listen to ahead of time. Spotify and Netflix apps have the option to download so you can listen to and watch your favorites without the need for WiFi or the dreaded buffering. You can even download apps for ambient noise or an audiobook app in lieu of an e-reader--something calm to listen to as you drift off into a deep slumber.
Hygiene and beauty travel essentials for long flights
If you're a germaphobe like us, these are must-haves for any bag (long flight or not). Stay fresh before and after a long flight.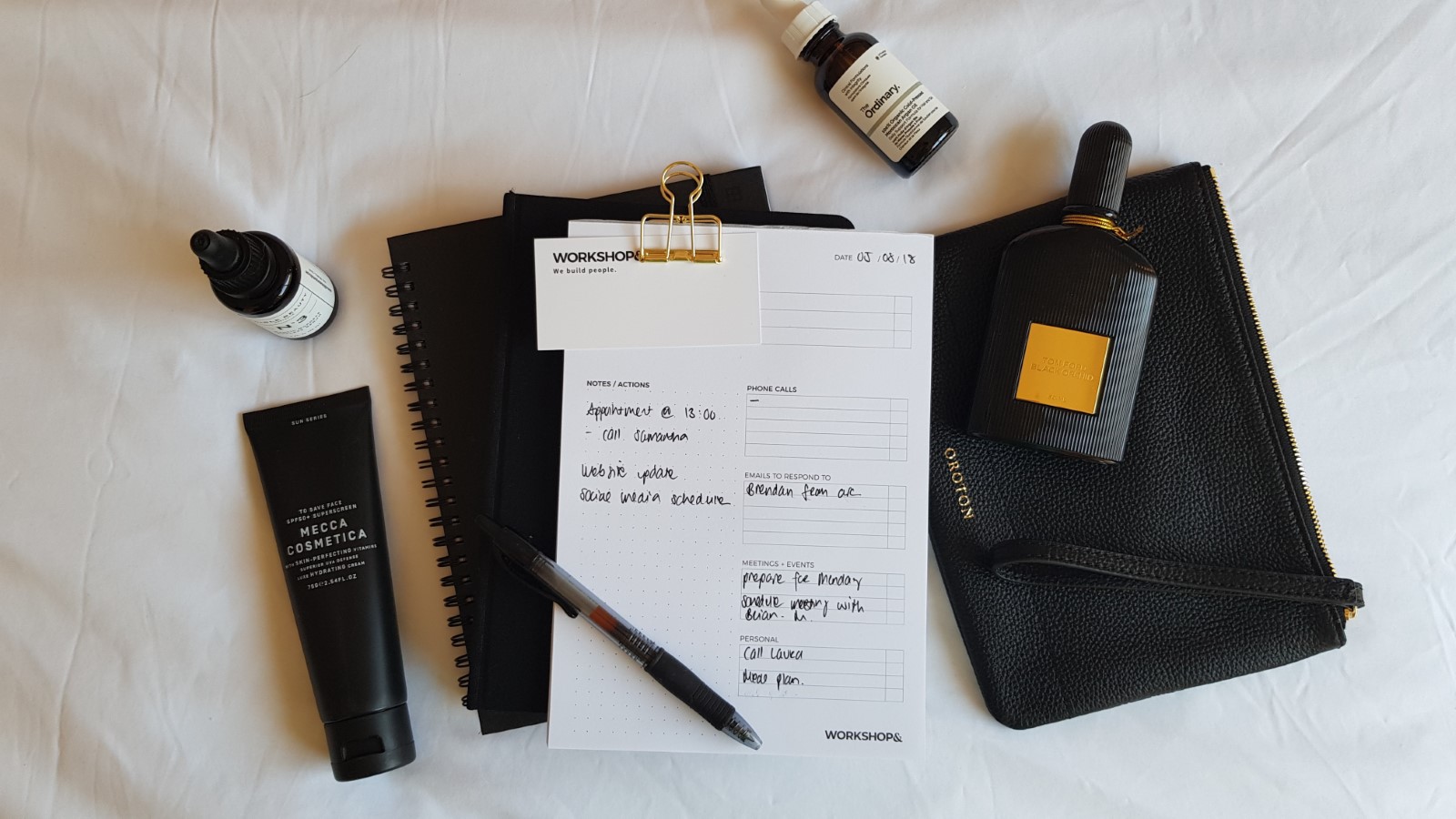 Photo by Workshop& on Unsplash
Moist towelettes
You can opt for hand sanitizer too, but these are slightly more useful. Use them for wiping down your seat area (those things can get pretty disgusting), as a substitute for washing your hands so you don't have to get up or wait for the restroom, or for quickly wiping off light stains from clothes. These are useful on and off the flight for every sinkless situation.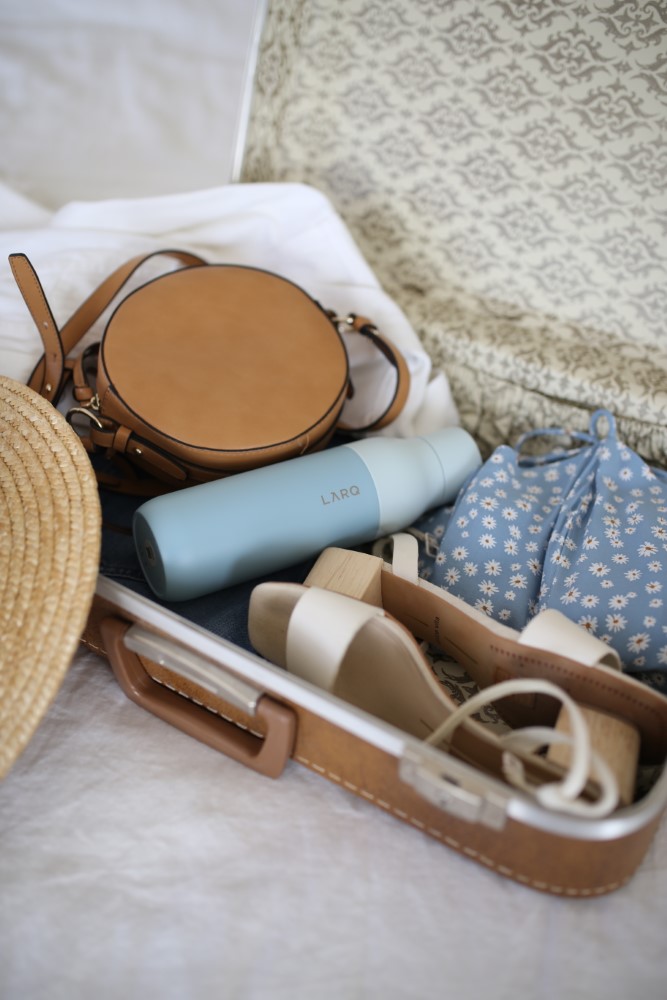 Photo by Emily Boffeli
Smart water bottle
Of course, you need to stay hydrated. Flight attendants do not come around enough to hand you water, and even then, they'll be handing you a plastic cup of water that you'll consume within the next couple minutes because you're afraid of spilling it. More plastic? No thanks.
Bring your own smart water bottle, the LARQ Bottle and fill it up at a water fountain in the airport after going past TSA. Ever think twice about filling at a station adjacent to the restrooms--eesh. That won't happen with the LARQ Bottle–the world's first water purifying bottle that will never get smelly–that's why it's the travel water bottle everyone loves. When you run out, ask your flight attendant to refill your water bottle instead of handing you a tiny cup of water. The bonus? It's a double wall stainless steel water bottle so it'll keep your water nice and cold for up to 24 hours–perfect for short trips and layovers alike. Oh, and did we mention a full charge lasts up to a month? It's no wonder it's the best travel water bottle on the market.
Moisturizer
When you're flying, the altitude can make your skin extremely dry. It's a good idea to pack some moisturizer with you and lip balm to keep your skin hydrated (drinking enough water will help too!).
Toothbrush & Toothpaste
Keep in mind, on a long flight, or even overnight one where you'll be sleeping on the plane, your breath can get a little unpleasant. Spare yourself and your neighbor and plan to brush your teeth at some point during your flight. Plus, you'll feel fresh coming off the plane--especially if you need to make a good impression right off your flight!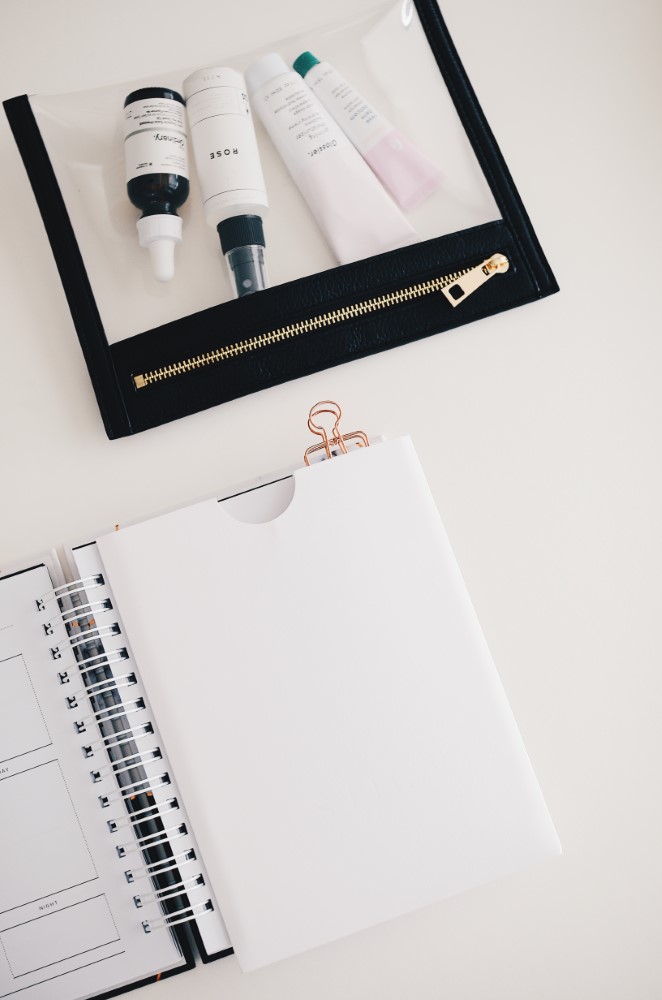 TSA-approved Toiletry bag
Clear 1 quart bags are a must when traveling abroad. Make things easy on yourself by packing this in your personal item or carry-on bag holding all your liquids in 100mL travel bottles. Having them all in one place makes going through TSA is a breeze, and you'll have easier access to them on the flight.
Gum
If this is purely to smell nice, mints will do the trick too, but chewing gum can also help you release pressure from your ears on the flight.
First aid and medication
If you like to stay prepared, a first aid kit will be a staple in your travel pack. You never know if you'll get a papercut that you'll need to cover up, or if you'll scrape up your knee on a hike in the Amazon.
Medication should be kept in the same place too--whatever medication you think you might need, just bring it, and bring a few extras just in case. If it's something that could mean life or death, it's smart to bring extra in a separate pouch or with someone you're traveling with too. Remember to follow TSA's rules and regulations for all medication.
Scarf
Whether it's hot or cold in your destination, a scarf is something versatile you can bring with you on a trip. If it gets cold, you can simply use the scarf as a blanket.
Snacks
Don't fall victim to hanger. Stashing a few snacks in your bag will prevent you from the dreaded irritability that can ruin your trip, especially if you're traveling with other people. It's a good idea to have them handy if you're going on some hikes at your destination or if you have long days of touring and museum-ing.
Unfortunately, I don't have a remedy for the child kicking your seat repeatedly besides politely bringing it to their parent or guardian's attention in hopes that they'll stop, but hopefully these are enough to help you deal with any other disruptions on the airplane. Happy travels!