Posted by Elaine Tu on May 8th 2019
Wondering how LARQ Bottle works exactly? Well, wonder no more. (Hint: It's actually really easy.)
Before you get started, give the bottle a little rinse. This step is probably not necessary because the bottle is self-cleaning, but we're germaphobes, so we're gonna do it anyway.
#1 Unlock LARQ
Press and hold the button down for 5 seconds to unlock the bottle for the first time. A white color light will flash signifying that it is unlocked and ready for purifying action!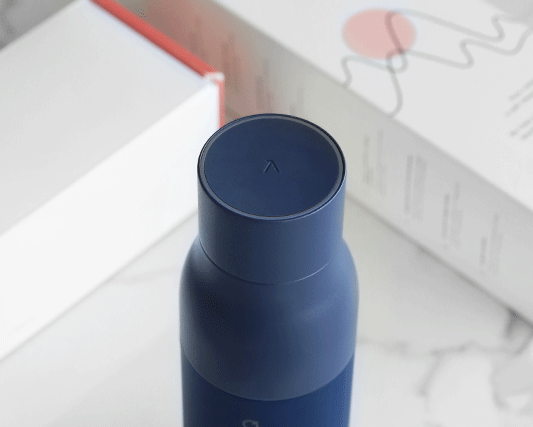 #2 Give it a good charge
Power that baby up! Remove the cap from your bottle and insert the LARQ micro-USB end into the cap. Then, plug the USB end into a USB wall adapter or USB port of a laptop until the battery is fully charged. You'll know when it's fully charged when the green light is steady.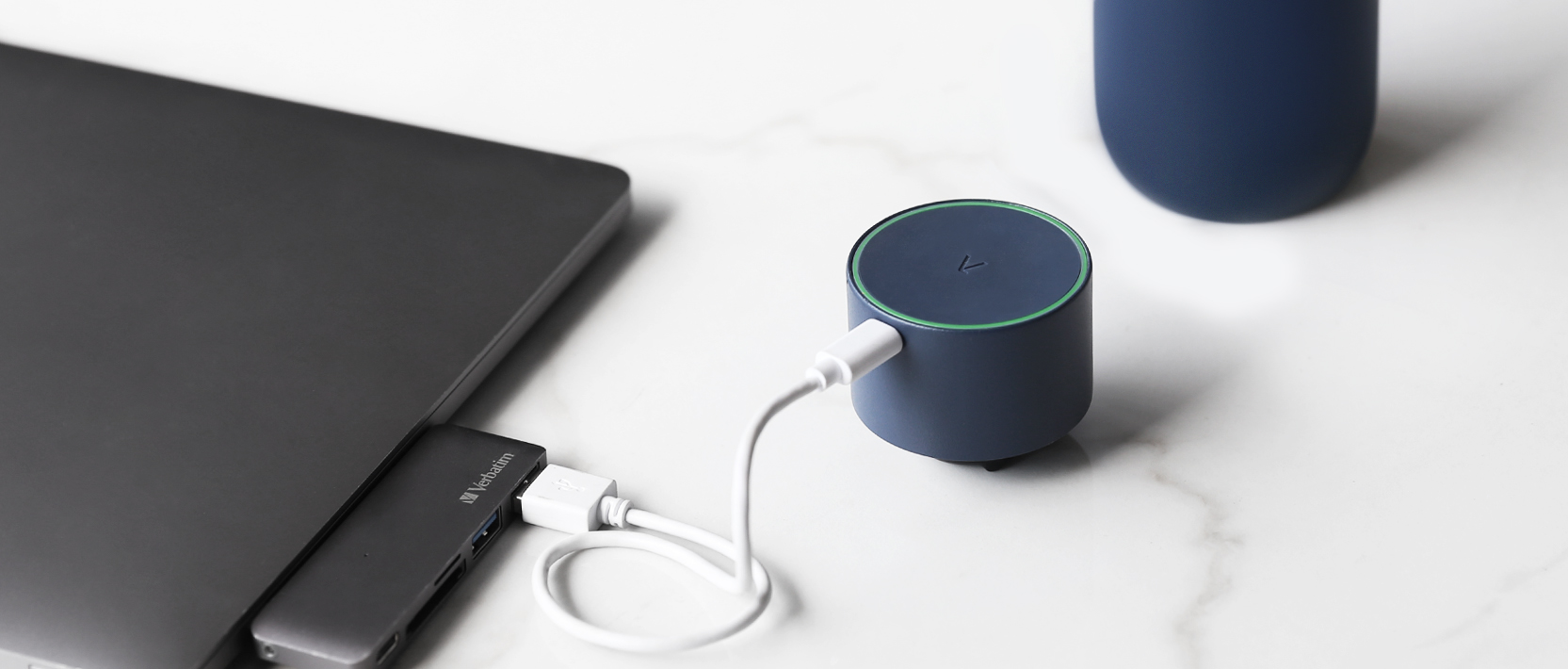 #3 Fill it up
Fill with clear water up to the indicator line. Then, screw on the cap and press the button to get purifying! Press once for Normal Mode, and twice for Adventure Mode. (Do not interrupt the purification cycle by removing the cap or pressing the button!)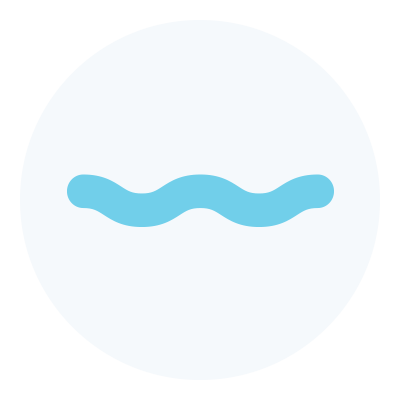 Normal Mode Breathing sky blue light
Adventure Mode Pulsing blue light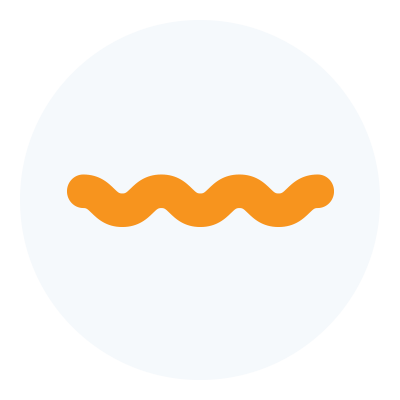 Safety Mode Pulsing orange light flashes when activated outside the bottle
Functionality
Normal mode
Drinking water from a trusted source? Then press once to activate Normal Mode, a 60 second cycle with a breathing sky blue light.
Adventure Mode
Need an extra dose of purification power? Press twice to activate Adventure Mode, a 3-minute cycle with a pulsing blue light.
Self-cleaning Mode
Your LARQ Bottle loves to stay clean. That's why every 2 hours, it will intelligently activate Self-Cleaning Mode, a 10-second cycle with breathing sky blue light.
Travel Lock
Hopping around the world on your next adventure? Hold down for 5 seconds to activate the Travel Lock, which disables Self-Cleaning Mode for travel or storage.
#4 Wait just 60 seconds for pure water!
Give your bottle a little whirl (we like to do our happy dance) while your bottle is purifying to spread the UV-C light's love in there. Now you're ready to #DrinkBrilliantly with fresh water from a clean bottle.
Seems simple enough right? Right! It's super easy to use and is designed to fit into your life seamlessly. Beauty and brains. Something you never knew you'd want in a water bottle.
Before we let you go, there a few things you should know about your LARQ Bottle. There's a whole lot of neat features in this thing. Just wait and see.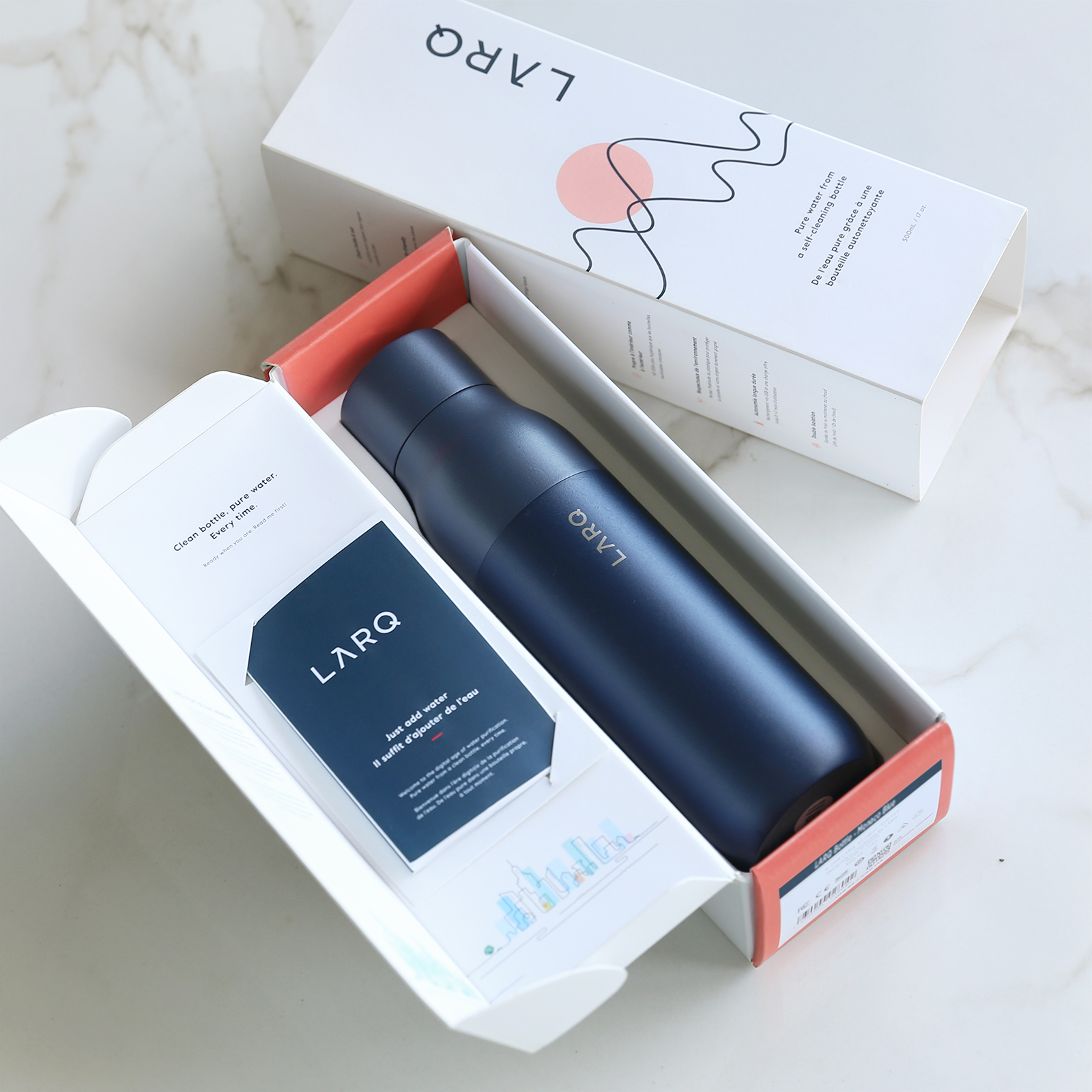 About your action-packed LARQ Bottle
LARQ Bottle is waterproof! You heard that right. Don't stress about dropping it in the sink or rinsing it off if you got a little dust on it. Its USB has a waterproof rating of IPX7, which means it can handle immersion up to 1 meter (3 feet) in water for up to 30 minutes.
Take your bottle on adventures with you! LARQ Bottle is travel-friendly, whether it is traveling internationally (going through TSA), backpacking across the country, or camping. Since it's a relatively new product, you might get some looks (probably in admiration), but we've flown with it and haven't had any issues getting past TSA.
Live your life, charge less. One full charge lasts up to 1-2 months based on 3-4 cycles a day. Normal mode lasts up to 4-8 weeks and Adventure Mode lasts up to 10-12 days. What can we say? It's ready for action.
Fill up with confidence. Refill your LARQ Bottle with water from water fountains, sinks and taps, restaurants, rivers, and even waterfalls (you little adventurer you). The minimum requirement is that the water is clear--no particulates of any kind. LARQ Bottle will kill 99.9999% of germs and bacteria (it's even effective against e.coli*) but isn't going to filter heavy metals or chlorine out of your water. Use in Adventure Mode if you're ever a little unsure about the water for an added boost of bacteria-killing power. *In Adventure Mode.
It's quiet. In case you were wondering, LARQ Bottle is completely quiet. No humming, buzzing or singing so you can keep on doing you, uninterrupted.
Cold or hot? LARQ Bottle keeps water cold for 24 hours and hot for 12 hours.
And there you have it. A beautifully designed high-tech water bottle was just what you needed in your life to help you #DrinkBrilliantly with pure water anywhere you go.
We know, we're in love too and we're not afraid to say it.
Don't have one yet? Shop the LARQ Bottle here.