Posted by Elaine Tu on Jul 5th 2019
If you've read our guide to camping sustainably and decide you're not about that backcountry life, we get it. We can't all be nature buffs or backpacking aficionados, but we can appreciate nature without the added stress and athleticism it requires to rough it in the mountains. The term "glamping" stems from just this--a modest mash of "glamour" and "camping" that is just as it sounds (yes, I did just used "modest" and "glamour" in the same sentence). So for all of you nature enthusiasts who don't like to sacrifice all of your creature comforts to enjoy it, glamping may be just the thing to cure you of your city-life woes.
If you're looking to be truly inspired by your surroundings, go glamping. Being more relaxed and less focused on surviving out in the wilderness brings you certain ease--so much so that it might just feel like an actual vacation! To truly enjoy yourself in the outdoors, here are some of the most unique glamping destinations you can go to in the United States that will get you outdoors a whole lot more.
Under Canvas - Montana + Multiple Locations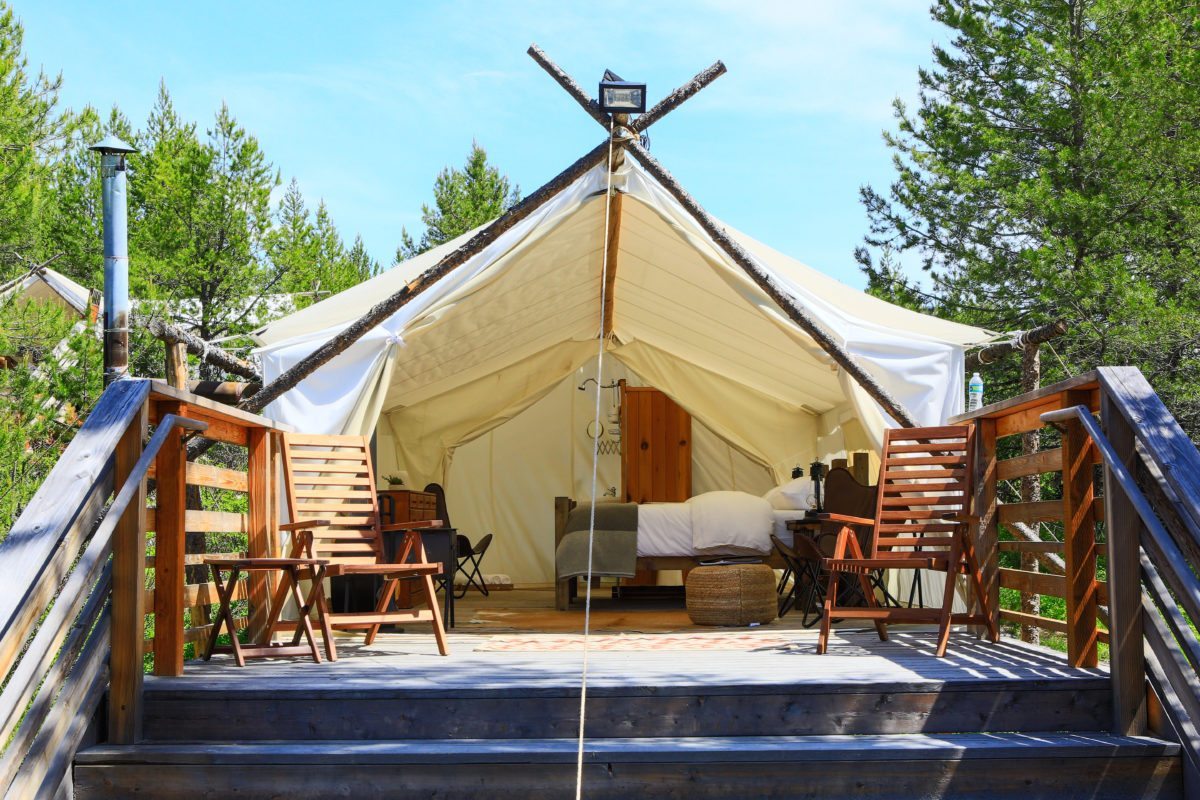 Source: Under Canvas
With a whopping eight campsites across the United States, Under Canvas has created a family of well thought out luxury sites that will make any nature lover happy. Locations include the Grand Canyon, Moab, Yellowstone, Glacier, Zion, Great Smokey Mountains, Mount Rushmore, and Tucson so far. Each campsite is close to activities unique to the destination its nestled in, ranging from llama trekking to paddleboarding, horseback riding, and even helicopter tours. Depending on the type of adventure you want to have, Under Canvas has much to offer.
Dunton River Camp - Colorado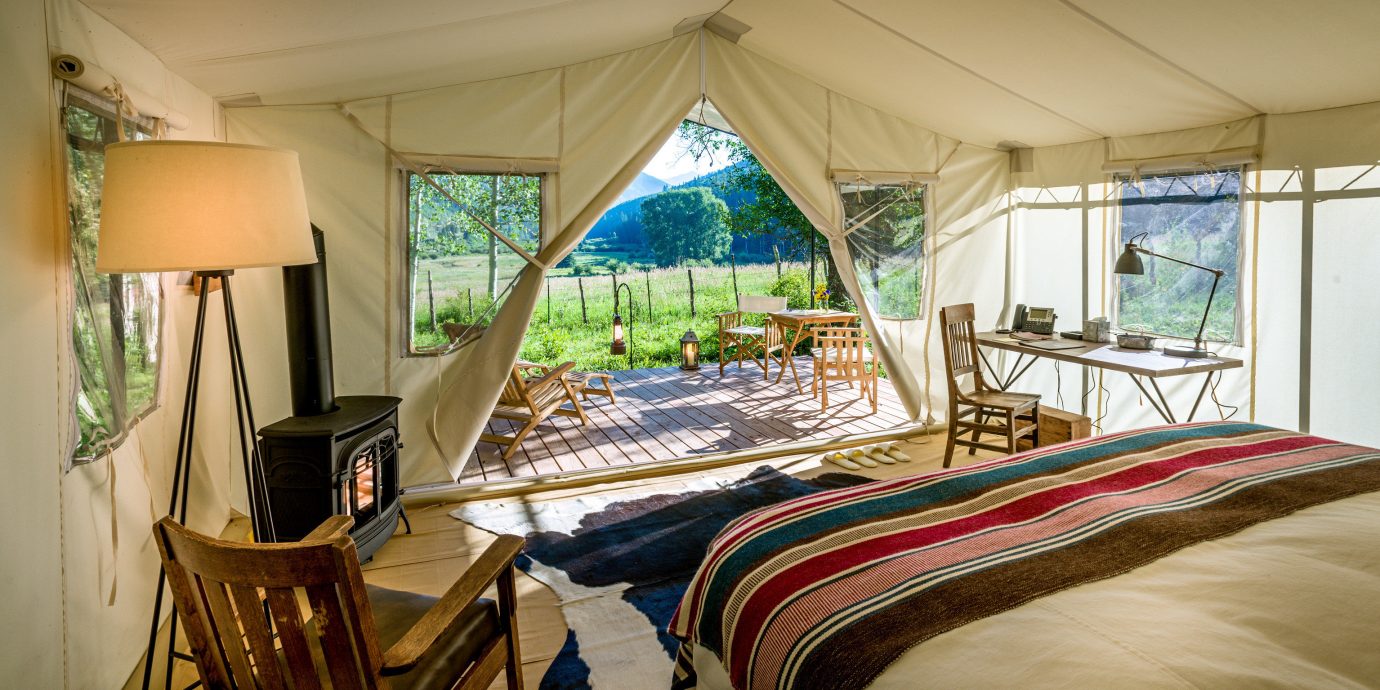 Source: Dunton River Camp
Dunton River Camp is a rustic glamping experience set up in Colorado's San Juan Mountains. You'll find breathtaking views of Wilson Peak or the Dolores River. There is a myriad of activities ranging from fly fishing, mountain biking, and horseback riding to soaking in the Dunton Hot Springs, getting massages or taking a yoga class. There are 8 luxury tents available, so be sure to book early to reserve your spot. Soaking in the rustic charm here without giving up all the little luxuries of a resort vacation is definitely how we want to spend our PTO.
Autocamp - California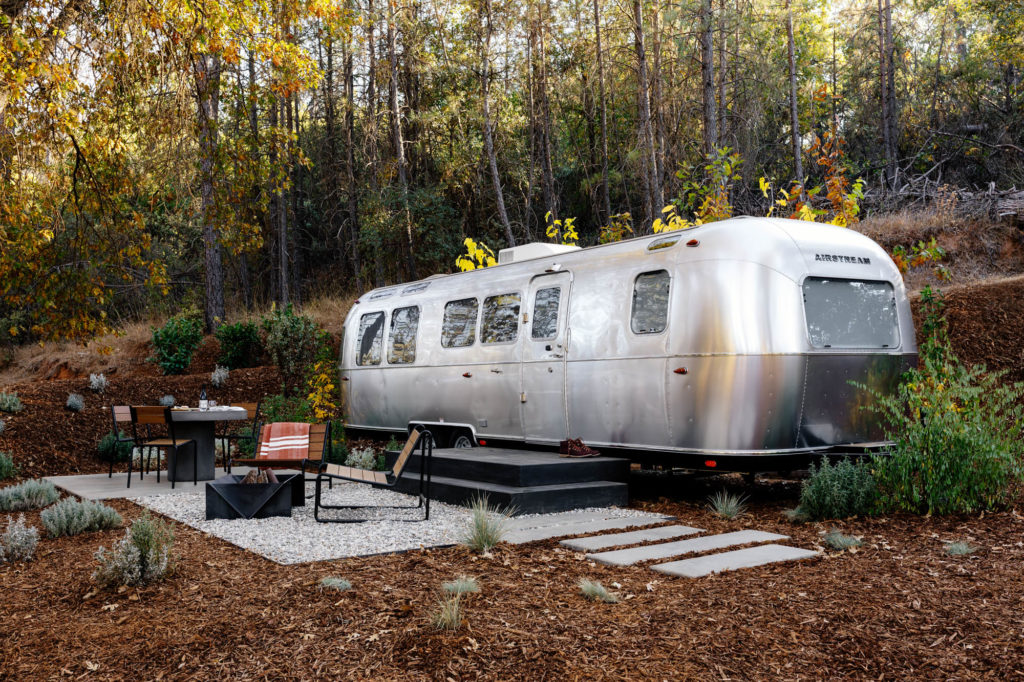 Source: Autocamp
As Californians, Autocamp holds a special place in our heart. Its unique experience features Airstreams that evoke a retro yet modern feel. Locations include Russian River (located under the Redwoods just minutes from wine country and the California coast), Yosemite (one of the country's most treasured national parks situated in the foothills of the Sierra Mountains), and Santa Barbara (located in Downtown Santa Barbara minutes from the beach and the Santa Ynez Mountains). The campers themselves don't feel like you're in airstream--they feel more like a modern tiny home with updated amenities and luxurious bed and bath. Each airstream has its own patio where you can enjoy your own firepit and have a healthy local snack and wine while enjoying the lush scenery. What more can you ask for?
Eco-pods - California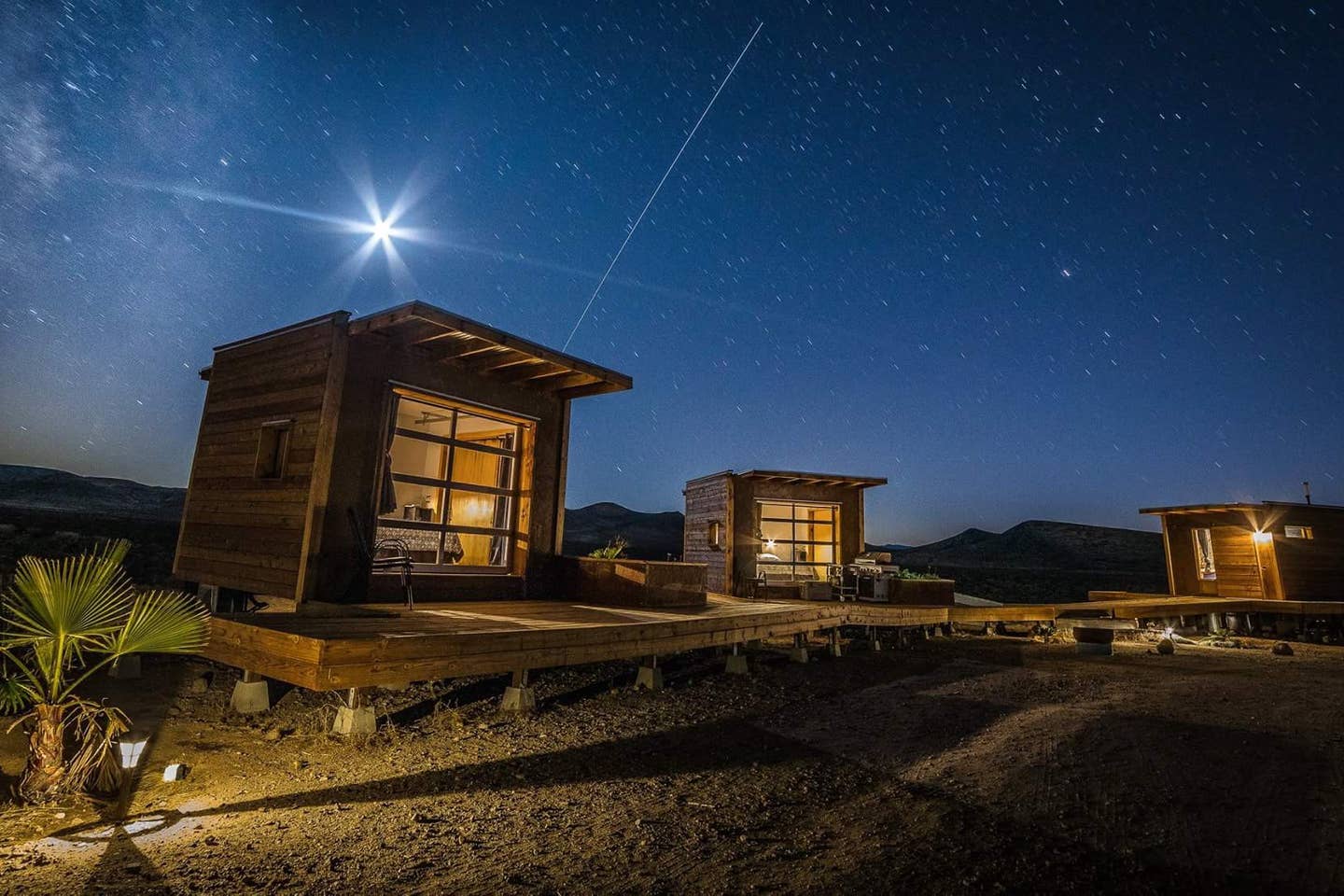 Source: Photo by Chet Steele via Airbnb
Not your typical glamping situation here, but definitely a special one. To really experience something, the starkness of the desert and the intensity it brings between seasons, these "eco-pods" provide the perfect shelter to experience the outdoors. The pods are constructed so that you can really experience the "intensity of the sun and wind, hear it when it rains, and experience the quiet solitude of the dark". Experience desert activities like going off-roading or riding your dirt bike or motorcycle across the valley.
Asheville Glamping - North Carolina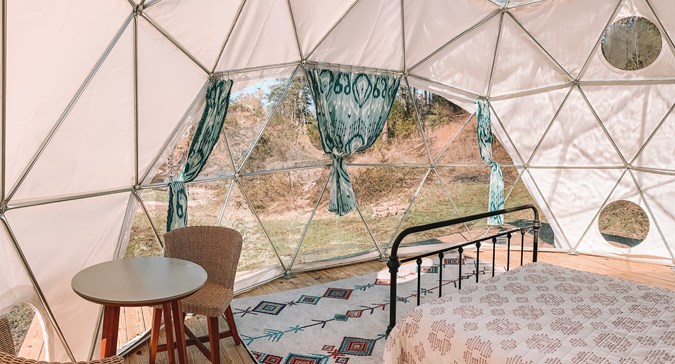 Source: Asheville Glamping
Asheville Glamping provides a variety of tents and cabins to choose from depending on your budget--each with its own charm and views. Perhaps the most unique experience at Asheville Glamping is their newest Dome 4 (pictured) with a transparent roof that allows you to stargaze at night, a luxurious queen sized memory foam bed and pastoral views. It's close to Biltmore Village where guests will find an abundance of activities to complement their glamourous stay here at Asheville. If you're looking for a romantic stay that's easy to access, this is it!
Collective Retreats - New York + Multiple Locations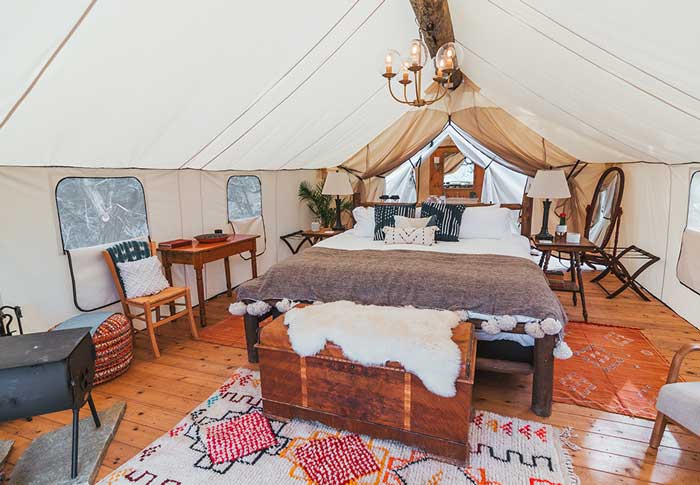 Source: Collective Retreats
Collective Retreats sets the bar high for their glamping sites across the United States. You'll get that boho safari vibe from all of its tents, but there is no skimping on the glam. They've done their research in selecting the most breathtaking landscapes to nestle their beautifully designed tents in. Keep in mind they are on the higher end of this roundup of glamping locations. Retreat sites include Governor's Island, Hudson Valley, Vail, Hill Country, and Yellowstone--each with their own charm. Pictured above is their Governor's Island safari tent. This site is just a ferry ride away from downtown Manhattan (so all you city folk can glamp too without having to take a plane), with a panoramic view of the statue of liberty across the New York Harbor.
Firelight - New York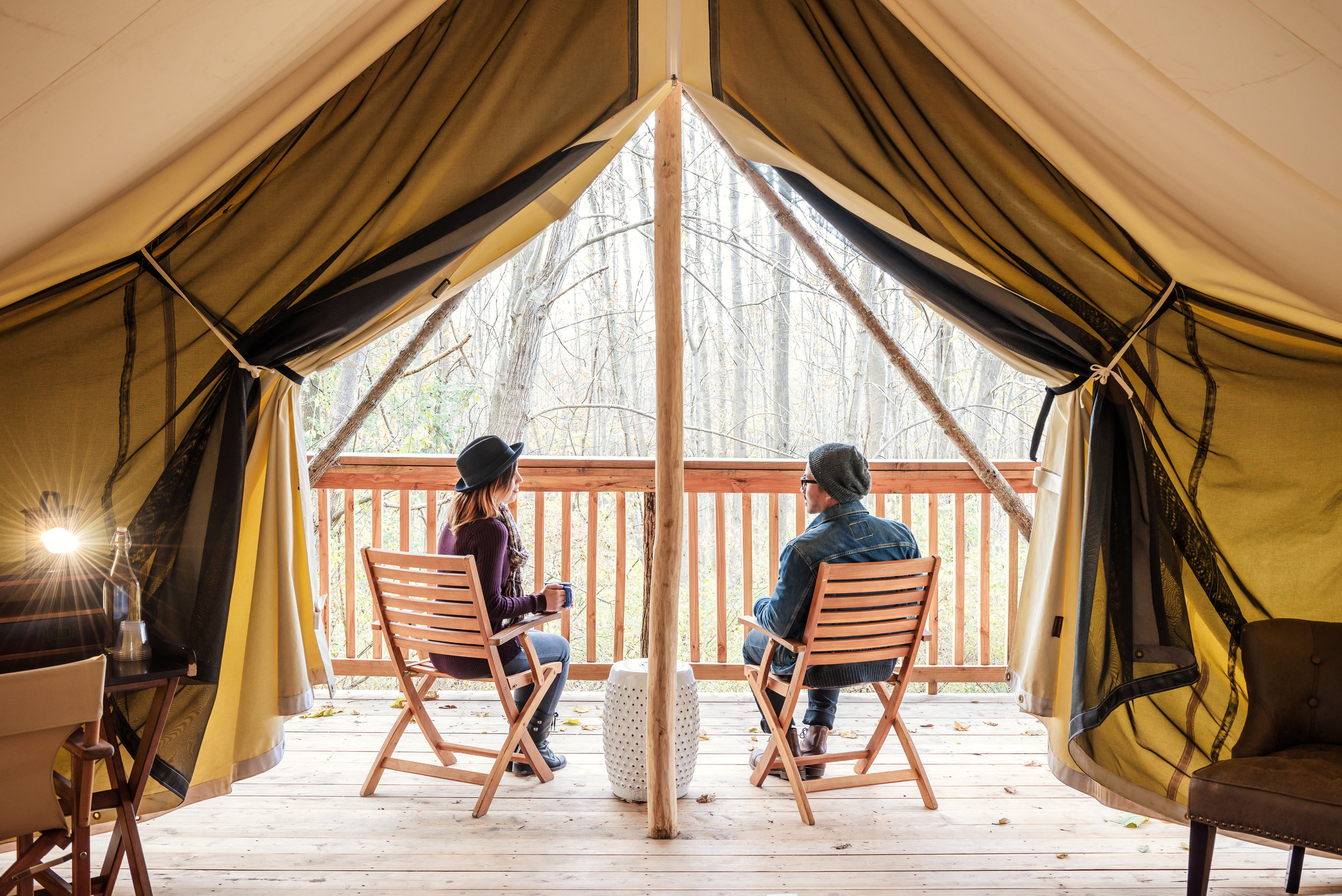 Source: Firelight
Traveling more upstate, Firelight is glamping site you can't miss. It's earned its title as an eco-friendly glamping site with a homely feel. If you love being in the trees and listening to the leaves rustling in the wind, this campsite is for you. The feel is rustic and unpretentious and has all the creature comforts one could want from a luxury glamping site. Here, they encourage their guests to enjoy the site with activities like live music by the fire, artisanal wine, beer, cider, spirits and cocktails, massages, outdoor yoga, and wild foraging hikes. There's no shortage of things to do here if you get bored but let's not forget to enjoy the scenery and being in the woods for a spectacularly relaxing getaway.