Posted by Elaine Tu on Jun 6th 2019
Your office space is probably the place you spend the majority of your time--unless you're one of those people who can work from your bed; how is that even possible?! Whether it's at home or at HQ, your office space should inspire productivity, creativity, clarity and overall feel like a space where you can, you know, actually get stuff done.
We've all been there--arriving to a cluttered desk with piles and piles of paperwork and random knick-knacks that can get overwhelming. When you see things in disarray, your mind can't help but feel overwhelmed and stressed. A clear and organized workspace is essential to your productivity and mental health.
Now, here are a few tips on how to decorate your home office or work space for optimum success and minimal maintenance. Did somebody say "desk envy"?
#1 Everything should have a place
Storage, storage, storage.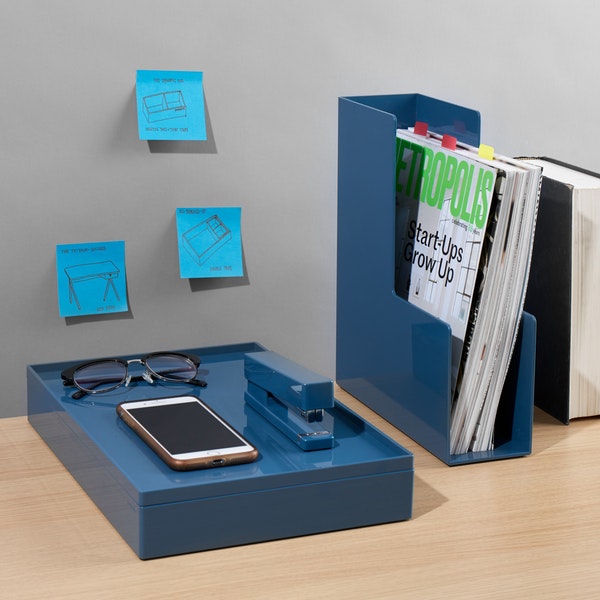 Source: Poppin
If everything has a designated space, you are less likely to lose things and less likely to leave a mess, which will likely result in reduced stress!
For that paper
Source: Amazon
For magazines, newspapers, manuscripts, sketches--any form of paperwork, a filing system might help. If you have a lot of paperwork, you might need some file cabinets. If not, you might be able to get away with a desktop filing system (as long as your paperwork isn't too sensitive of course).
All the small things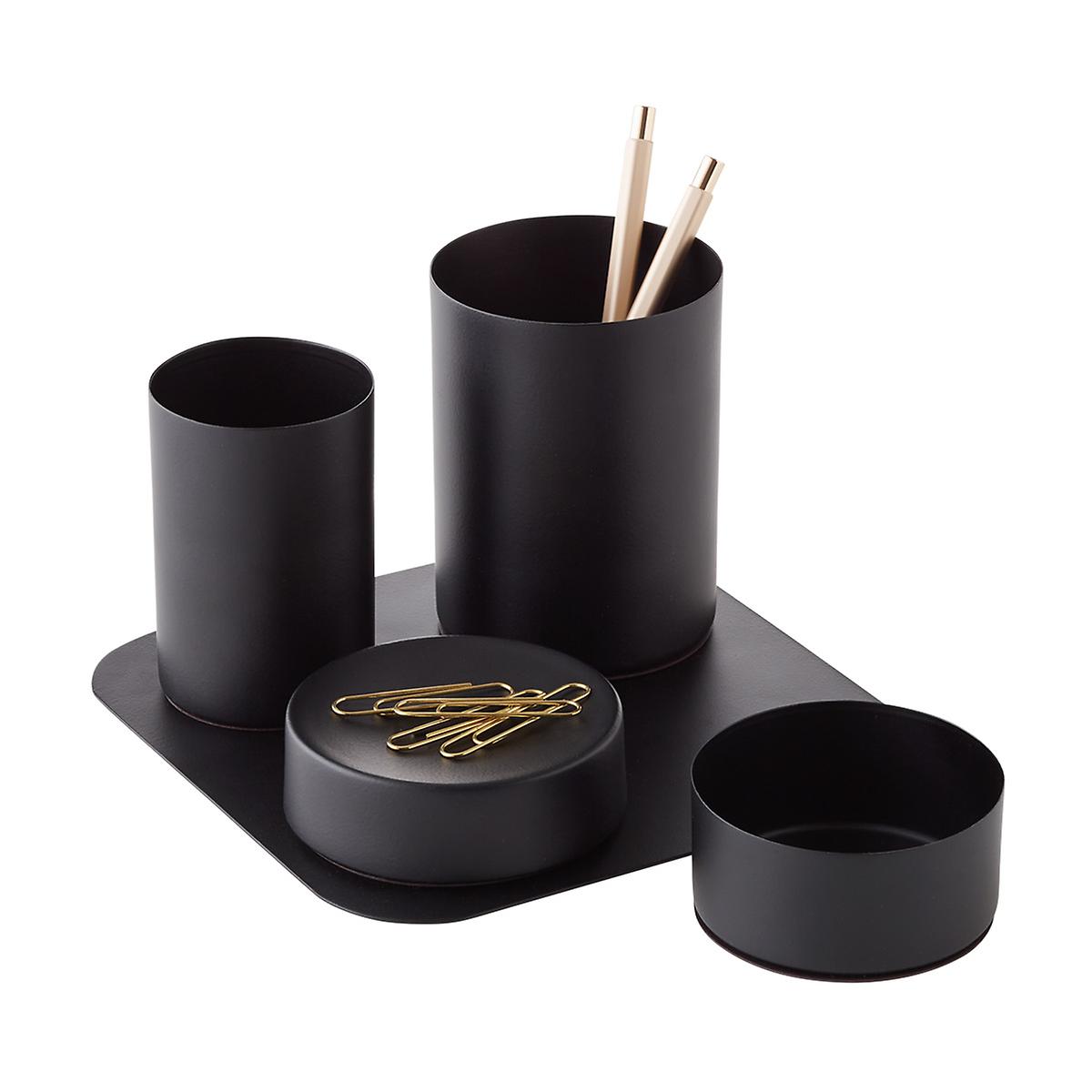 Source: The Container Store
Keep small office supplies in a drawer organizer or a container with a lid so they are easy to find yet concealed to avoid clutter. Binder clips, paperclips, erasers, loose change--they all have a place and it's not scattering them across your desk or thrown into a drawer carelessly.
A cup half full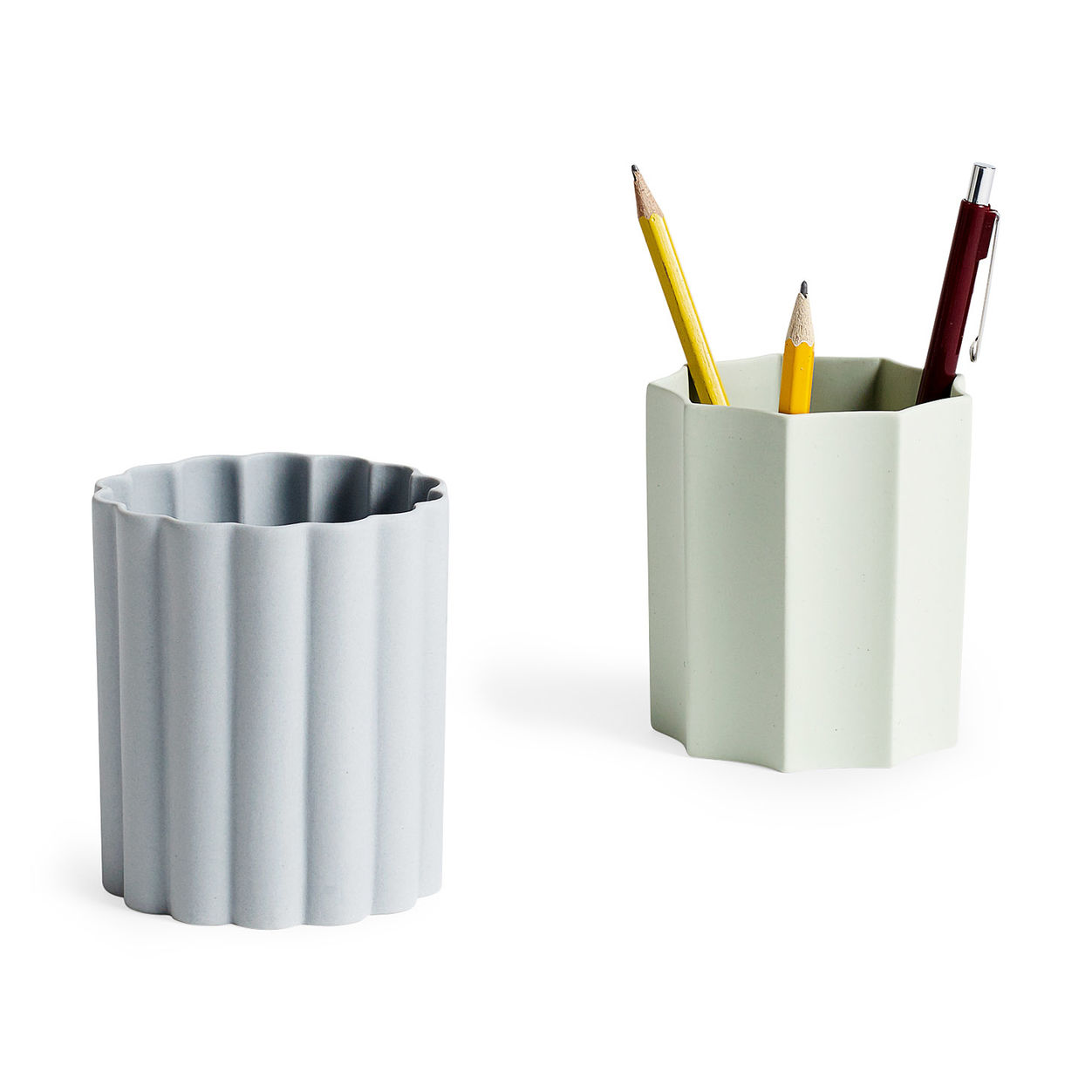 A pencil case, pencil box, or simply a tall mug will keep your writing tools in one place. If you use a lot of different mediums for your work like pens, pencils and different sizes of paint brushes, you might even want to take it a step further and have them organized into different holders.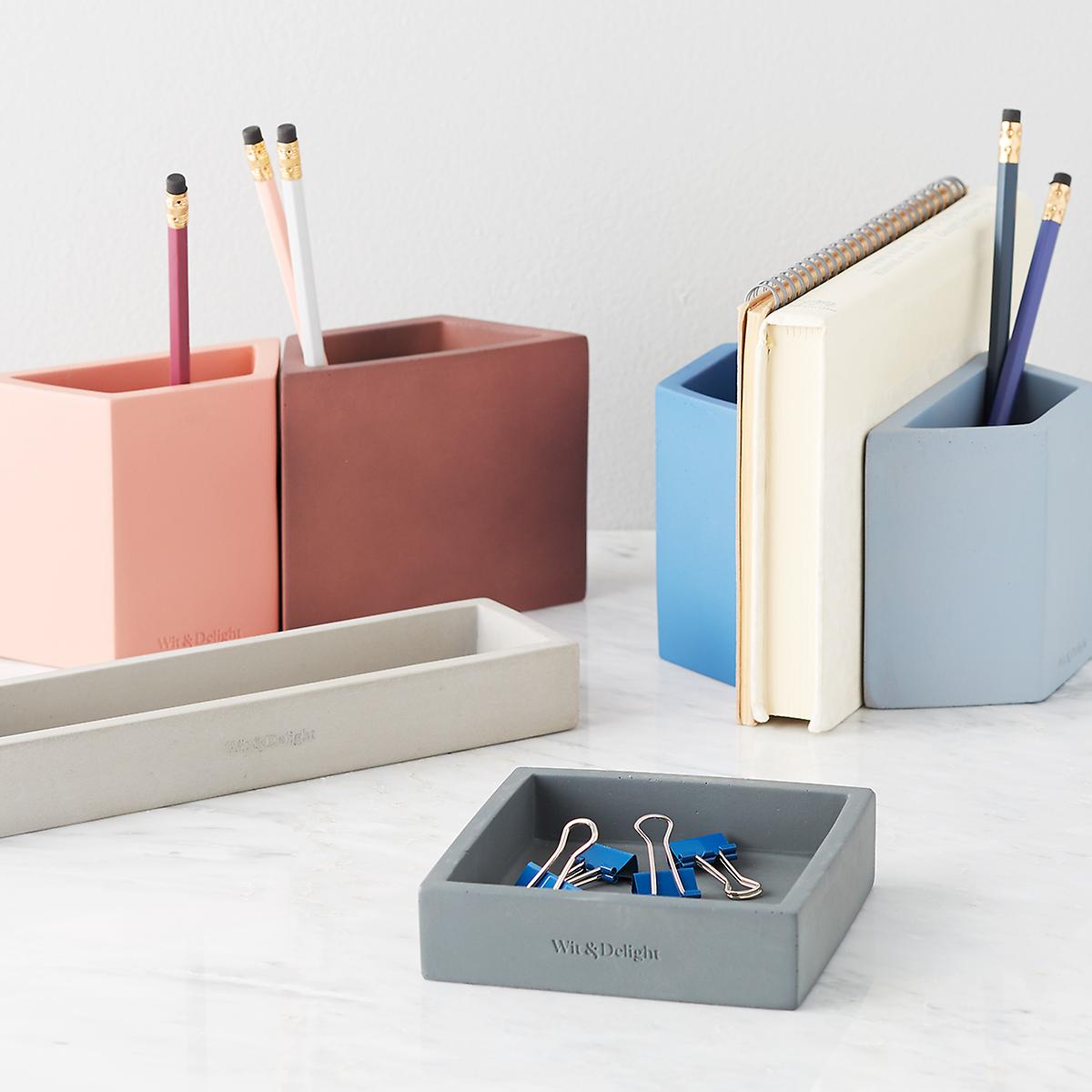 Use this rule of thumb and tailor it to your needs. You can always find a place for things that makes sense for the way you work.
#2 If you don't use it, get rid of it
We're all a little guilty of keeping things at our desk for ages and never using them. If you realize you haven't used something in more than 6 months, consider repurposing it elsewhere or giving it to a friend. There's no use in letting it collect dust and take up space in your office.
#3 Use a notebook
If you're the type of person who needs to write things down and are currently doing that on a bunch of sticky notes or random pieces of paper you have on your desk--it's time to invest in a notebook. Having all your notes in one place not only keeps your desk neat, but it makes finding your notes easier. After all, you wrote them down to try to remember them right? You could also think of it as an archive of all the work you've done in that part of your life.
Trust me, I was really resistant towards purchasing one because I have had a ton in the past I didn't use, but when you get one that you like, that fits your aesthetic and is a good size for your lifestyle, you'll want to use it and stick with it until you run out of pages.
Do you tend to spill coffee or tea or anything on your notes? What if I told you there was a waterproof and tear-resistant notebook for you that also looks beautiful? Shocking, right? The Karst notebook is made out of stone that has been finely milled to create beautifully smooth pages that are spill-proof and tear-resistant so even the most accident-prone people will have a notebook they can truly take with them anywhere.
#4 Keep your cables in order
The most frustrating thing about a desk area is the cluttered cord situation. You have chargers for everything--even if most of your tech gear is wireless.
So what's the solution?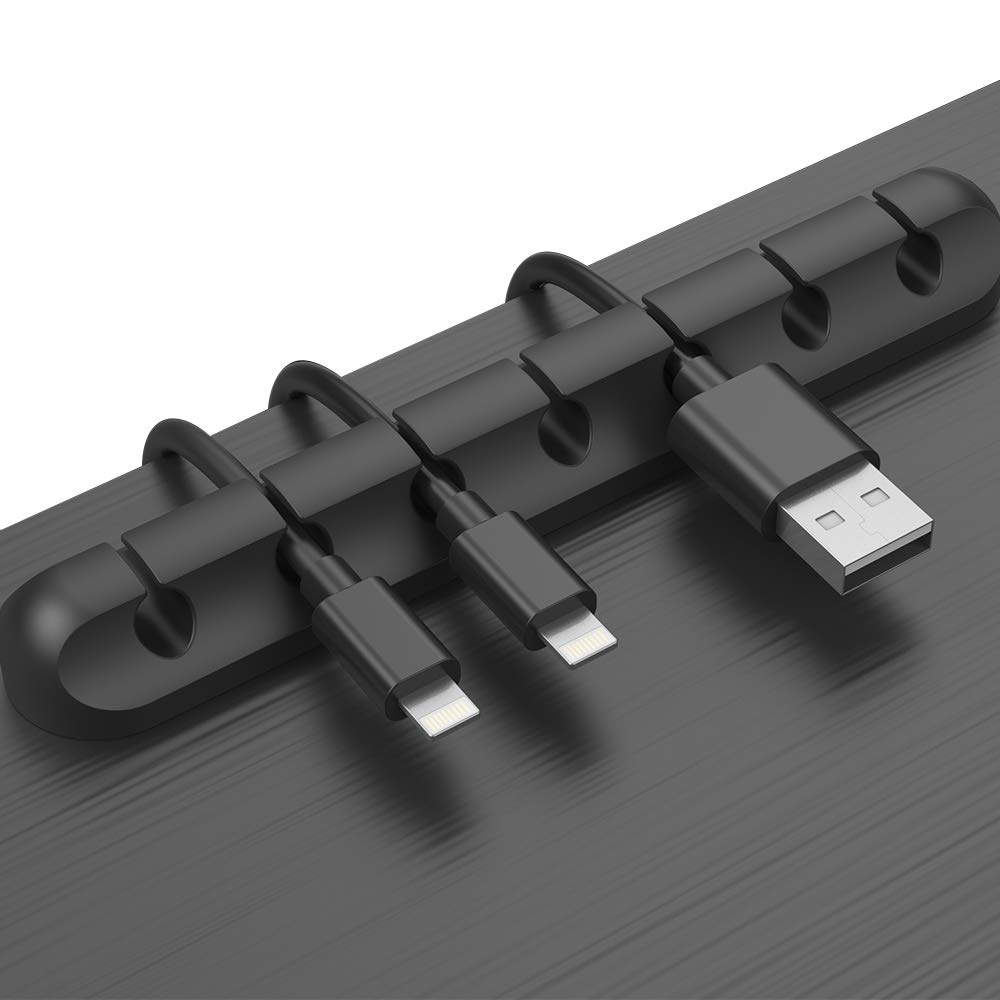 Keep cords neat by binding them together or using a cord keeper. If your gear has wireless charging capabilities, invest in a wireless charger to minimize the amount of cords on your desk.
You can also tuck larger cords behind a laptop or monitor stand or keep them neatly bound towards the back of your desk.
#5 Express yourself

Photo by Gabriel Beaudry on Unsplash
Sometimes the problem with an office area is the lack of self-expression that can make your space feel cold and unwelcoming. But on the other hand, a slippery slope is adding too many random things to your desk, so make sure every piece of decor you add is intentional and not overbearing.
Get Sentimental
You can say a lot with the few things that you decide to include, such as photos of loved ones, or a bobble head from your favorite team--no need to bring your entire collection. Don't want to get too personal? Using elements that speak to you, like wood finished accessories, minimalist touches, or a few your favorite books sandwiched by gold bookends will get the job done without the warm and fuzzies.
Form but also function
Express yourself with functional pieces too, such as a desktop calendar with your pet's face on it or a mug with your favorite Disney character on it. Or, dare I say, a sleek looking water bottle that won't cramp your office style that automatically cleans itself so you never have to worry about the embarrassing stench after forgetting it in the office for a whole weekend.
Go green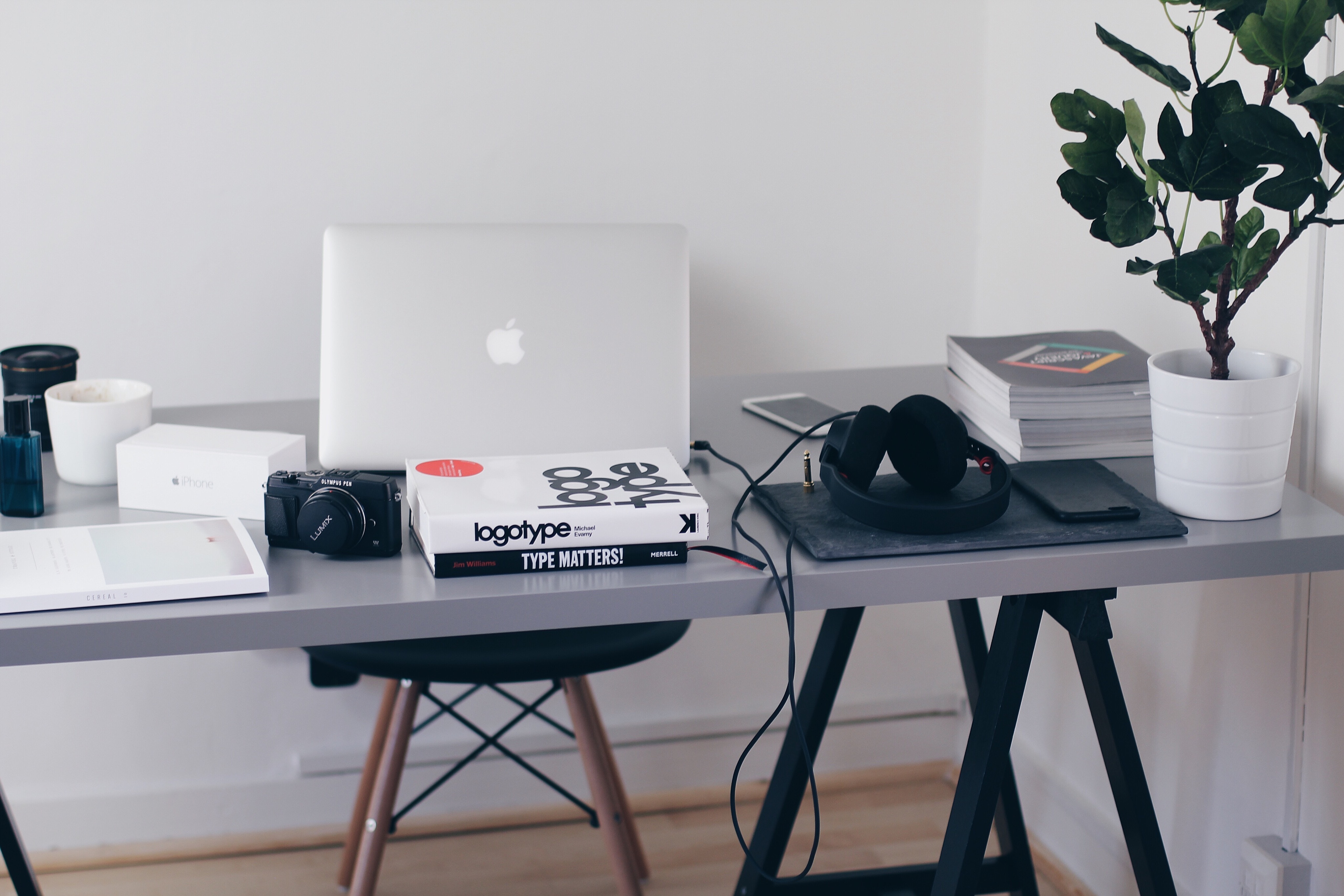 Photo by Christopher Gower on Unsplash
A great way to spruce up any area, especially your office, is adding indoor plants. Plants are great for adding some life into your otherwise cold workspace. Some even help purify the air and are *nearly* impossible to kill. Snake plants, peace lilies, dracaenas, and cacti are all tough plants that will do well in lowlight settings such as in an office space and are forgiving if you forget to water them or overwater them.
Don't worry, if you don't have a green thumb, you can opt for some faux plants! They add the same effect without the hassle.
Remember, your work space should be a place that feels like your own, that inspires creativity and productivity, and that you shouldn't feel stressed out by on top of your workload. We believe these simple tips will help guide you along your way to a more productive work life. Does your stress stem a little further than from your working environment? Check out our article on how to reduce stress and tips on managing your stress levels for improved mental health.